Benefits Of Content Writing For Your Businesses|Darshan Sonar Digital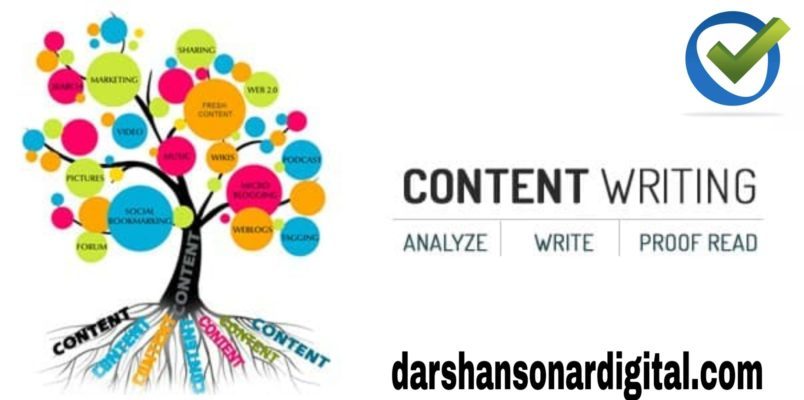 What Is Business Blog:
A business blog is a marketing plan which helps you to improve your leads. Many businessmen use blog writing to get their business more online visibility. It is just like a marketing channel ( like social media, direct mail, email marketing, etc.) that helps boost business growth. It is one of the most powerful ways to build your brand awareness while presenting appropriate and useful content to your target audience is through regular blogging. Belove I m going to show you how much Benefits Content Writing Can Give You For Your Businesses. (Benefits Of Content Writing For Your Businesses)
Benefits Of Content Writing For Your Businesses:
Benefits Of Content Writing For Your Businesses (Darshan Sonar Digital)
1) Website Traffic:
Content writing and blogging is one of the fully reliable and cheapest methods for a business. When a business creates blog posts regularly, they are continually providing fresh content to the index to all search engine optimization. And plays an important role in increasing website traffic.
This is the most valuable opportunity for businesses to use those related keywords that consumers use to search at the web for the types of services or products and offers.
2) Client Engagement:
Customer engagement is an extremely important element of digital marketing and branding. Blogs and content writing provides you the best opportunity. This helps you to communicate with your existing and new customers in different types of ways. Blog writing is a more conversational way. It is a good way to develop trust within your target audience through high-quality content that they find compatible. With an active comment section, you will be able to take followup the visitors' response to their comments, it will help you to build trust and relationships with them.
3)Media Visibility:
let's guess how people can find your website.
Blogging can help you get spotted via social media. Every time you write a blog post, you're creating content that people can share on social media networks like Twitter, LinkedIn, Facebook, Pinterest. which helps reveal your business to a new audience that may not know you yet.
It helps to maintain your social media presence going alternately of asking your social media manager to come up with the brand and new original content for social media (or creating that content yourself), your blog can serve as that container of content. You're growing your social reach with blog content and striking new website visitors to your blog by your social channels.
4) Lead And Conversion:
If your content is good then you can receive huge traffic on your website through the blog then it becomes your responsibility to convert them into a lead. In blog writing, you can face lots of opportunities. Because every blog could come containing new lead This is really very simple. Just add your CAT in every post. Let me show you how it works.
Very first visitor comes to your website
Then they will see the CTA button for a free offer
After that, they click CTA and gets to a landing page, which contains a for them to fill their information
Then visitor fills out the form, submits information, and receives the free offer
5) Attract organic traffic to your website through your Blog:
Publishing content on your blogs allows you to bring organic traffic to your web site and your social media networks. These are new leads who are finding you because of your content. And not because they are searching instantly for your business and your company name. In so doing, you are extending the circle of recognition and possibility for your business. Always Remember that generating blog force takes time and commitment not too different from investing; the presently you start, the quicker you see results.
How you can promote Blogs:
Send Plain Text Emails Or Visual Emails
There are lots of people who are trending toward plain text emails recently. HubSpot noticed that HTML-enhanced emails reduced their open and clickthrough rates, suggesting that some email clients may filter improved email from even growing into primary inboxes and that peoples tend to see email as a 1-to-1 interplay.
So of course, I had to dig into our own data to understand what your goals and guys similar to us here at CoSchedule. It turns out that figuring a visual into our new post emails decreases open rates by as much as 3.5% while clickthroughs increase by about 2.12%. Given the heavy amount of people who open our emails, I'll take my 3.5% more opens with slightly more sporadic clickthroughs.
Send An Email Newsletter:
The number of bloggers publishes 2–3 times a week. Why not collect those posts with a few others from rock stars in your corner to build an email newsletter your subscribers will enjoy. That's a glorious way to share your new content again. Maybe a few of your older but super awesome posts, and make the time you put into social media content creator completely deserving it by sharing those posts again.
Post Blog On Social Media:
Users won't want to follow around to locate your content or an indefinitely-hidden link to your blog. Make it simple for them to locate you by placing a link to your site on all of your social media networks. Make it noticeable and easy to navigate. When your social media content attacks them, they'll want more, so make it simple for them to combine with you and access your blog or website. Also, try to keep your handles consistent beyond your platforms. That will make it more accessible for audiences to find you And more accessible for you to build a bond and a recognizable brand.
Promote Across Networks:
Let your social media marketing efforts work mutually. Instead of solely recycling content beyond platforms share uncommon content on each platform that joins users to the content on other platforms. For example, you could post a "behind-the-scenes" moment on your Instagram story while sharing a post excerpt or reader comment on your Twitter. This only-get-it-here method of social marketing will help promote users to engage with you on various platforms. Thus preparing even more expression to your marketing efforts.
Conclusion:
I hope you understand by reading the above about the Benefits Of Content Writing For Your Businesses.
You can leave a comment if you need any assistance regarding the above post. (Benefits Of Content Writing For Your Businesses). We look forward to helping you. If you want to learn more about the social media market. And want to perform practically with me you can just fill-up the form below so that I can get in touch with you from the Darshan Sonar Digital marketing course Pune.