Career Opportunities In Digital Marketing 2022 | Darshan Sonar Digital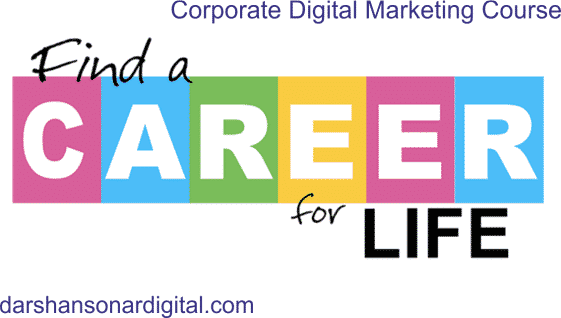 Firstly, Guys in this post I will explain to you about Career Opportunities in Digital Marketing 2022. Furthermore, I will share which steps could be beneficial for you and rank you at the top of success. And if you are interested to learn Digital marketing so visit us at Darshan Sonar Digital 1st Corporate Digital marketing course in Pune.
Back in 2010 Indian Companies were much into the traditional ways of marketing. While their products and services were not ready to accept that Digital Marketing can increase their ROI.
When companies had traditional marketing methods. They used to stick between the growth of 5 to 10 percent. However, Companies with Digital Marketing were growing ahead with a 45% growth rate with evolving technologies. It made an impact to start the implementation of digital marketing.
Now in 2022 companies are using Digital Marketing Practices for increasing their brand awareness and sales of products and services. As a result, according to the Times of India, there are around 2 lakhs of jobs in India in the field of Digital Marketing. And every 3 minutes, a Digital Marketer is getting Placed. Isn't it great news?

Digital Marketing Industry is Growing Rapidly
Digital Marketing is a field with rapid-growth and always evolving with new opportunities. As we have seen above, in every 3 minutes a Digital Marketer is been placed. Big companies are largely investing in Digital Marketing and they are also searching for good candidates. So if you want to be the part of this evolving industry and be successful Digital Marketer in upcoming decade. You should upskill yourself and for that we will help you, visit us at Darshan Sonar Digital 1st Corporate Digital marketing course in Pune.
Career Opportunities In Digital Marketing 2022
Digital Marketing Manager
Content Promotion Manager
Analytics Manager
SEO(Search engine optimization) Manager
—-SEO executive
SMM(Social Media Marketer) Manager
—-SMM executive
Content writers
CRM and Email Marketing executive
Web Designer
Inbound Marketer
Let's Dive into Some of Digital Marketing Job Roles
As you make a start in Digital Marketing, it's very important to understand the key specialities in the industry. There are various job profiles in Digital Marketing to consider, each with its own sets of skills.
Digital Marketing Manager:
Firstly, they are responsible for the promotion of a company and its products or services.
Above all, the manager is responsible for developing marketing strategies, implementing and managing marketing campaigns.
Also, making an impact of the company's brand by creating awareness and reaching a targeted audience.
He also plays a major role in creating analytics funnel includes daily and monthly website traffic. Customer purchase and goals achieved for his organization's progress and reporting it to VP of company or Director.
Keeping an eye on the updates of Google's Algorithm. And also make sure the company is not affected by any Google algorithm update.
Optimize content for the website and social networking ways such as Facebook, Twitter, Instagram, LinkedIn, etc.
In other words, he managed the entire team unit. And also leading them by driving results through working in collaboration.
Content Promotion Manager:
A content manager is responsible for all content. Which is present on the company's website, blogs, social media profiles, and ad campaign content. It also plays an important role in updating and cleaning up outdated content by following Google guidelines.
They play a major role in making content that will drive traffic. Moreover awareness, engagement, and leads. That delivers sales and customer retention.
Analytics Manager:
Analytic Manager plays an active role in Understanding Market trends and Measuring Strategic Goals. Accordingly which is paramount for the company's success.
We should effectively communicate the brand's message, by analysis skills, to extract value from reporting tools. For instance, Google Analytics, SEM rush, GT-matrix tools.
SEO(Search engine optimization) Manager:
The main role of an SEO Lead is to increase the visibility of the company's website in search engine result pages.
On-page SEO and Off-page SEO of the website by doing complete website auditing and co-ordinating with website developer to implementing tasks for making the website secure and having Good user experience of a website.
Leadership plays an important role when handling the SEO executive team. Keeping the team updated by Google's Algorithm. Making White strategies according to search engine standards for increasing rankings of the site.
Making Keywords analysis by utilizing tools link Google Keyword planner and suggesting its worth by analysis its competition.
Implementation of result effective search engine optimization (SEO) strategies by optimizing images, content, and links in the overall website.
Co-ordinating with Development, content and social media team to increase visitors on the website.
SEO Executive:
The role of (SEO) Executive has increased constantly since the early days of the Internet. In other words, your role is to promote the websites of your customers to boost the number of visitors it gets (traffic).
At one time, the list of duties was relatively small and focused on things. Such as basic keyword analysis, on-page keyword targeting, link structure, restricting duplicate content and being listed in records. While you could still be performing any of these tasks. The role has shifted significantly more advanced. In this situation, you will be running in the very expression of a 'quick-moving' industry so stay reading.
Role Of SEO Executive:
Conducting on-site and off-site analysis of your company SEO competitors.
Using programs such as Google Analytics to collect regular performance reports.
Assisting the content team in the production of high quality, informative SEO content.
The work of on-site and off-site SEO plans for clients in various industries.
Adding to the company blog.
Moving out detailed keyword research according to the latest keyword strategies.
Enduring up to date with the most recent developments in Search Engine Marketing (SEM).
Paying particular attention to any vital Google algorithmic changes.
SMM(Social Media Marketer) Manager:
Social Media Manager is the one who Creates strategies for promoting a company's products or services. And also implementing them by using social media platforms. A manager manages various social media platforms. Likewise, Facebook, Twitter, LinkedIn, Instagram, etc. Building a company's social media Reputation and managing it.
They work to manage the campaigns on social media profiles. It is responsible for creating campaigns. That will reach a targeted audience. Making awareness and lead generation through social media campaigns.
Its role is to make sure that customers are getting aware of the company's products or services. And are engaging via social media and responding to each and every comment.
SMM (Social Media Marketer) Executive:
SMM (Social Media Marketer) Executive works under the SMM(Social Media Marketer) Manager. He should be an individual who handles all the social media activities of an enterprise. Social media activities are hired to perform social media campaigns, Promotions, etc.
The Social Media Executive is also the one who is responsible for the daily posting and updates on social media sites. Likewise, Instagram, LinkedIn, Facebook, Twitter, Youtube, Pinterest, tumbler, scoop it and all the social network which possess globally. He is the one who has total access to all the accounts and therefore the company must pick an honest person as an executive to avoid a violation of trust.
Role of SMM executive:
Develop, implement and manage social media sites
Describe the most important social media KPIs
Manage social media content
Measure the success of all social media campaign
Stay up to date with most advanced social media best practices and technologies
Utilize social media marketing tools such as Buffer
Cooperate with Marketing, Selling and Product Improvement teams
Monitor SEO also user engagement and advise content optimization
Chat with industry professionals and influencers via social media to build a strong network
Content Writers:
Content writer's role is to write content keeping in mind the targeted audience. And also search engine standards that will increase the company's website and blog visibility.
A major role is to write content in such a way that it will results in high CTR (click-through rate).
He also has to make sure his content is unique and should update contents according to the change in trends and google algorithm updates.
Write blogs which will give useful information to searchers which will increase engagement. Accountable for all content marketing drives by writing composing marketing copy to promote products and services. Content Writers has a great Career Opportunities in Digital Marketing 2022
CRM and Email Marketing Executive:
Ensure the company is using CRM that is Userfriendly, fast and helpful in converting leads into customers.
Making an email campaign with good content by using tools like MailChimp. That will produce high open rates of email.
We should focus on following up on the leads. And make sure if you are giving them proper information about the products/services.
Web Designer:
Firstly, these are responsible for website management. A Web designer also prepares content for the Web. This role is mainly related to the styling and layout of pages. And also content, including text and images. Web designers use many technologies. But commonly rely on hypertext and hypermedia resources.
Inbound Marketer:
Once the audience land on your website. Your sales team can talk to them. Using communicational tools. showing value as they hear about your brand. Then your consumer service team can delight them great after they've shifted as a customer. Acting as a sympathetic advisor on your product. Inbound is a process of attracting people to expand a business. That provides value and builds faith. Inbound guides access to doing business in an effective way.
Inbound is a more reliable way to market Therefore, most trustworthy way to sell. And a more loyal way to serve your customers. Because when ideal for the customer means good for the business. Your company can grow much bigger over the long term. By creating blogs designed to address the difficulties and requirements of your ideal consumers. You entice qualified prospects and build trust and honesty for your business.
Inbound Marketing Professionals should have skills, in addition, to attract clients to a brand by blog writing. However, their daily duties may include:
Role Of Inbound Marketer:
Developing a strong recognition of products of the industry.
Writing numerous marketing elements including blogs, newsletters, social media content and so on.
Knowledge about analytics and data and applying them to create powerful content strategies.
Having knowledge of the industry's best methods, strategies, and offerings including inbound marketing
Creating, And maintaining multi-channel marketing campaigns. Help to lift SEO, social media and inbound marketing.
Conclusion:
In the above post, I have shared the Career Opportunities in Digital Marketing 2022 and also Designations that are offered to a Certified Digital Marketer. You can be also certified Digital Marketer from Google partner's Corporate Digital Marketing Courses.
You can leave a comment in below comment section if you need any assistance regarding the above post (Career Opportunities in Digital Marketing 2022). Or else want to perform social media strategy practically with me you can also fill-up the form below so that I can get in touch with you. And also visit us at Darshan Sonar Digital 1st Corporate Digital marketing course in Pune