Digital Marketing Strategy For Tours And Travels | Darshan Sonar Digital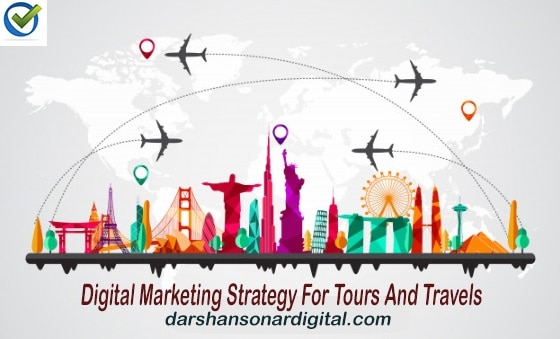 What is digital marketing?
The digital market is the key to spread promotional messages regarding your tours and travel services in digital ways like the internet, mobile phones, android application, ios applications using display advertising and many other digital ways. When digital marketing didn't begin, you had just limited ways to promote your agencies. Such as ads in magazines, newspapers, and billboards. Today in this blog I am going to present to you the precious information about (How To Create Digital Marketing Strategy For Tours And Travels Company). But before starting it I have to say you that…
Digital marketing provides you lots of ways to promote and advertise your brand. Such as google ads, Video campaigns, Email marketing, blog writing, SMS marketing, App Install Campaign, Youtube campaign, social media marketing like Facebook, Instagram, LinkedIn, Pinterest and many more. It is all about engaging your target audience and customers where they ethically interact with each other and your brand.
Travel industry and the importance of digital marketing:
Travel & Tourism is one of the most interesting businesses to work for. With an entire booking of $1.6 trillion in 2017, the global travel industry is one of the fastest-growing quarters. Improved connectivity and technology are only going to make it more comfortable for travelers to roam the world.
Today, passengers are making their own booking after extensive analysis on the internet. 97% of people share their travel activity on social media. Hence, there is a great expanse for digital marketers in the travel industries.
With the help of ROI, you can know the status of every single rupee. In the era of digital marketing, everybody has desktop computers, laptops, mobile devices, tablets, Televisions and easy access to information for all aspects of the tourist industry from services, travel, food, and activities.
Know your audience:
There is absolutely no substitute for knowing who your customers are, why they like your services, and which services are they don't like. Use a help case tool that advances tracking client communications and information simple, so when clients communicate your support team, they have significant interaction. To know more join darshan sonar digital marketing training in Pune.
Social media is the biggest weapon to target the audience:
In the Era of the 21st century, we can't say we leave behind due to a lack of opportunities and resources. Now in this decade, everybody is available on social media whether it is customer or businessman. So, why are you staying behind? Move progressive and gain many kinds of possibilities and offers.
Similarly, tours and travel industries can take benefits of social media channels to increase the business in a small time and at a low cost. Using social media you can attract visitors and form the interest of the public.
Video campaign:
Learning about tours and travel is one best thing but seeing videos effects a large number of people. You will just found 18 to 20 in a group of 100 people who like reading and listening rather than watching videos. In various forms, it looks that YouTube has now graced modern TV.
Video campaigns could prove the most beneficial for the Tour and travel industries. You can just upload there every single update without any charges. Your videos require to be optimized to hold people watching for as long as conceivable. If you are uploading YouTube videos to your site, avoid decreasing your web page speed by producing a custom YouTube embed code.
Email marketing:
Email marketing is an effective way to promote and advertise your services even if it was about tours and travels. It is one of the top digital media channels which encompasses online marketing via the website, like social media, blogs, etc. According to the sources, there is a 70% probability that your email would be read and at a very negligible cost, it is worth the little money you would spend on any one of them.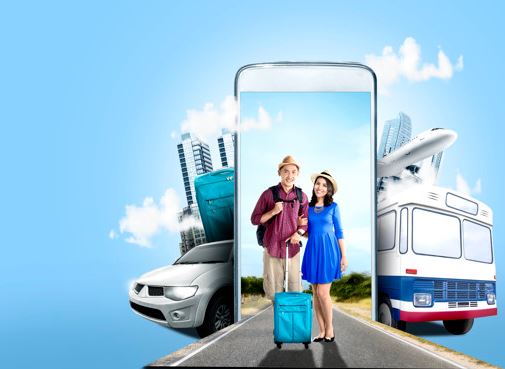 SEO:
SEO means search engine optimization. It helps to keep higher your website in search engine results pages (SERPs). It presents your website more visible to the audience who are finding solutions via search engines like Google, Yahoo!, and Bing. Customers looking online to determine their next holiday destination your tours and travel website would be located first and fast if your SEO policies for travel business are active. Using the right keywords would be the most relevant when appropriating this strategy and your SEO agency should assist you through on this. To know more join darshan sonar digital marketing training in Pune.
SEM:
A well-planned traveler will give first priority to search online to find their holiday destination. If you are choosing the right keyword then they will come to first than others. Your SEM strategies should be regularly refreshed to assure you come up with the right sequence of words to ensure that your travel or tour company is found when searched.
Content marketing:
Content marketing helps to boost your business growth. It is one of the most influential ways to build your brand awareness while offering appropriate and useful content to your target audience is through regular blogging. Understand your consumer's journey and how you might be ready to use content to lead your visitors and transform more leads. If you are time-poor engage your team to write blogs and web content they are your front-line salesmen after all. Your content does not forever have to be long but it must be helpful and appropriate to your audience.
Chatbots:
A chatbot is an Artificial intelligence (AI) software that can duplicate a discussion with your customers in a simple style by texting them, through your telephone mobile apps, messenger and many more ways.
It is the most advanced and trustworthy representation of communication among humans and machines. But, by the technological standpoint, a chatbot just exemplifies the constant progression of a Questioning and Answering regularity leveraging Natural Language Processing. It is the most assisting way to push you to make your life easier.
Conclusion:
By reading the above post I hope you understand digital marketing strategy for tours and travels.
You can leave a comment below in the comment section if you need any queries regarding the above post (digital marketing strategy for tours and travels). We look forward to helping you.
learn more about 20 Tips That'll Boost Your Facebook Organic Reach In 2020 Or else wants to perform practically the strategy of digital marketing with me you can just fill-up the form below so that I can get in touch with you. Also, visit us at Darshan Sonar Digital For more queries.