How Social Media Marketing Course Will Help You To Grow Your Business | DSDM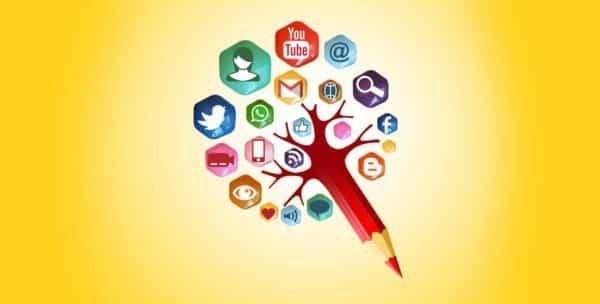 Let's start with some facts about social media (Darshan Sonar Digital -Social media marketing courses in Pune ) Let me tell you How Social Media Marketing Course Help You To Grow Your Business.
As of now, there are almost 7.7 billion peoples around the globe. however out of which 4.4 billion people uses the internet
On the other hand, almost 3.5 billion are active social media users
The average time spent by a single person on social media is 142 minutes
According to one survey, these are the numbers of different social media platforms.
FACEBOOK: There are almost 2.4 billion users
INSTAGRAM: There are almost 1 billion users
GOOGLE+: There are almost 111 million users
LINKEDIN: There are almost 610 million users
PINTEREST: There are almost 265 million users
REDDIT: There are almost 542 million users
SNAPCHAT: There are almost 190 million daily users
TWITTER: There are almost 330 million users
WECHAT: There are almost 1 billion users
WHATSAPP: There are almost 1.6 billion users
YOUTUBE: There are almost 1.9 billion users
These were the number of users for different social media platforms
Let's discuss some Social media strategies for different platforms in our Social media marketing courses in Pune.
according to reports. However, social media networks earned an estimated almost $8.3 billion from advertising
In 2018, $75 billion was spent on social network advertising
However, in 2015 almost 40% of the organizations plan to spend more than 20% of their total advertising budget on social media platforms
Facebook has 5 million active advertisers on the platform
By seeing the increasing popularity of social media, after that most businesses and brands had jumped on to social media platforms for most of their advertisements. After all, who doesn't love free advertising?
SOCIAL MEDIA MARKETING STRATEGY | Social media marketing courses in Pune
Yeah, it is true Social media can be very effective to grow one's business! however, it doesn't mean that there is nothing to lose in it. Yes if u don't have a solid strategy to work on Social media marketing
without any efforts, you are not going to see any result unless you consistently reach right people with the right content
SOCIAL MEDIA MARKETING PRINCIPLE
1. You should know who your audience is
Before making your first step in the social media marketing world you should know. Who is your audience? WHO you are talking to? What do they want?. You can't know what they want until you don't who they are? and what did they want?
We are not just only talking about Demographics but also about there special attributes, like Hobbies, etc…
2. Find out the pain points (key factors) and passion (interest) of your audience
Once you get to know who your audience, Now its time to know about what are the things that they are passionate about things they want to know or thing they like or dislike. what drives your audience to respond to your social page.
The key factor of effective social media marketing is to include the ability to share in your audience. but you can't put your social power in work unless or until you know what will your audience react to or what things motivate your audience to take action against your post.
3. Write Your Manifesto (Your Speciality)
With your Manifesto your audience will get excited about your Movement what you are going to do in your venture, As a result, they will get attracted to your company. What story you are telling that they will identify with?
Write your Manifesto about who you are and what you stand for. As a result, include a statement such as
We Believe…
Are committed to…
Want to…
And Provide You with…
4. Choose one platform as your main platform and 2-3 other platform as your Support Channels
This is the reality that we try everywhere on every platform to grow but it is not possible you cannot have 10K followers/audience on facebook, youtube, Instagram, Twitter, etc…
So if we work on one platform not only it does give you great authorities, but also, it's easier to get higher total numbers
Choose a primary platform that is preferred by both of you as well as your Customers. it important to be where your customers spend much time and it will help you in growing your company
5. ENGAGEMENT
Lastly, don't forget to engage with your customers. the easiest way to engage with your customers is to reply to their comments on social media posts
engaging with your customers is the best way to learn about them and knowing what they are expecting from you. and what they are interested in?
you'll be able to know to answer their questions, find out what they are interested in, what makes/motivates them to take actions on your posts (sharing, commenting).
All this says that if you want your content to reach maximum people, then create engaging content (content that your customers are interested in), and continue to engage by replying to people's comments
The Importance of Social Media Marketing
Did you know that 90% of all marketers say social media marketing has increased there business exposure to the whole world?
But some people still say that what is the need for digital marketing? or what will I get from digital marketing? Do I really need it?
Yes, of course, you do here are some reasons which help you understand why you need it?
Social media posts bring targeted traffic to your website or page
whatever your industry, audience be but the most portion of your customers/leads are on social media. after looking at the statistics of social media platforms we get enough idea that most of the world is using social media platforms.
Having access to all those customers will help to boost your traffic on your page. it won't just boost your traffic but it will bring the type of visitors you wanted on your site
Using social media for business boost your sites SEO
Your Content Strategy is the most important factor in your search Rankings, and driving traffic to your page will help the page to climb faster in your Search Ranking.
This Is simple you can re-share your Content. we recommend to re-share your content once in a month. It is not at all time consuming there are tools that will help you we have Facebook's scheduling tool or Hootsuite (for twitter).
CONCLUSION:
By reading the above post I hope you have now understood very well regarding social media marketing and its advantages.
You can leave a comment in below comment section if you need any assistance regarding the above post.
Or else want to perform social media strategy practically with me. you can visit at Darshan Sonar Digital 1st Corporate Digital marketing course in Pune – Social media marketing courses in Pune " you can just fill-up the form below so that I can get in touch with you.