How To Do Competitor Analysis Using Digital Marketing | Darshan Sonar Digital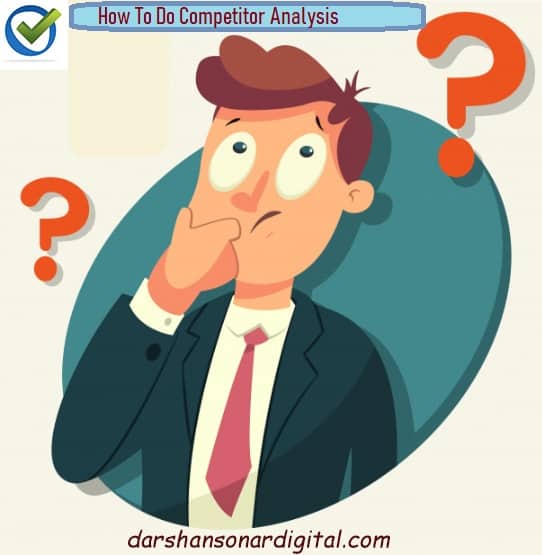 What is a competitor analysis?
Competitive analysis is an important policy. Based on this policy, you can learn about your competitors and their product, sales, and service. It assists you to make a unique product and services. Imagine if you knew all these things then how much better you could do your business. So below I will explain to you all about "How To Do Competitor Analysis Using Digital Marketing"
Tactics to do competitive analysis:
Know your competitors.
Know about their products and services.
Analysis of your competitor's trades tactics and effects.
Take a survey of their social media channels.
Take a survey of their website.
What are their latest offers and plan?
Examine their marketing content.
Know your competitors:
A business whether small and big a competition will occur definitely. So to do tough competition you will have to know who is your competitors.
There are two types of competitors you will face in the market:
Direct Competitors:
Indirect competitors:
Direct competitors:
The direct competitors are the person who operates in your area, provides exactly the similar product and services in the same pricing range to the same targeted audience.
Indirect competitors:
Indirect competitions provide products and services which look the same but exactly won't. They also propose to provide the same needs.
Focus on direct competitors more than indirect competitors.
Example of direct competitors: REDMI provides stylish and advanced features of smartphones. However, it is in direct competition with REALME that also furnishes stylish and the same feature smartphones at a similar price range.
Examples of indirect competitors: Tetley and Nescafe are indirect competitors. Although both trade drinks, one trades Tea and is very famous in the UK and some Asian companies whereas the other trades coffee and is very famous in western countries. There is nothing that Nescafe can appear to change the choice of society who likes tea. Similarly, if someone likes Coffee, Tetley cannot alter their taste. They will constantly favor Coffee. Both of these companies can strike their direct competitors. But, they can attack only a little part of the indirect competitors' market.
Know about their products and services:
Let me tell you that products and services are the two main pillars of any business. If you want to survive in the era of the competitive world you have to keep an eye on your competitor's product quality, its pricing range, and services which they are offering. Also, take a look at their current market share, are they increasing or decreasing, What is their unique selling strategy, how many kinds of channels are they using? and in the last but least try to know on which product are they offering a discount.
Analysis of your competitor's trades tactics and effects:
It is extremely tricky to find out your competitors running trade analytics. But if you work on this to know the answer to the following question presented by Hubspot then you can rule even on your competitors.
What does the sales method seem like?
From which channels are they selling?
Do they have varied locations and how does this supply them an advantage?
Are they growing? Scaling below?
Do they have partner reselling plans?
What are their client's reasons for not purchasing? For ending their connection with the business?
What are their earnings every year? What approximately the total selling amount?
Do they always discount their products or services?
How interested is a salesman in the manner?
Take a survey of their social media channels:
Nowadays every businessman promoting their business on social media because of providing lots of ways. So definitely your competitor will have a presence on social media so take a survey on how does your competition making engagement with their product and services by social media channels? are they offering a call to action buttons on their every content? are they connecting links to their social media channels in the header, or either where else? Do they use calls-to-action with these buttons? Is it visible clearly?
If you are not using social media and your competitors are working on it, then it will be very destructive for you and your business. If your competitors have an account on social media like Instagram, Twitter, Pinterest, Facebook, YouTube, LinkedIn, Diigo, Snapchat and all others. Also remember during investigating how to do a competitive analysis, examine yourself some questions like this What are the essential requirements of digital ways for your brand? same thing for your competitors? Keeping tabs on your selling activities over both core and developing channels will check a competitor from stealing into your content marketing is a hidden place.
Then, get a survey of the items which I mention below from each platform:
How many people follow them?
what is the scenario of their posts?
How many audiences are liking and commenting on their posts?
Take a survey of their website:
You can check the ranking of your website by using seositecheckup.com and ubersuggest.com. Your website should be rank above 75% but if your competitors running at 85% then you will have to run further their score to achieve your goal. A glorious site to begin on a competitor's website is the merchandise pages. study their example to understand how they are putting their goods or service to the clients. Pages with pricing reports are more deserving of examining to view if you can present a more loyal, goods or service at a very less cost to customers.
What are their latest offers and plan?
Study their latest offer, plan and annual sales report that displays data of the complete sales volume, income improvements, and complete detail of their sharing in the market. Also if you know their offering price then you can rule over them in the market.
Examine their marketing content:
Ther are a lot of tools seositecheckup.com for classifying the content that makes best their website. It is very helpful for marketers to generate new concepts, build Trending content, and join with influencers. They can similarly assist as a strong competing analysis tool. Once you type in a topic or competitor URL, the seositecheckup.com database pulls the social media stats from several popular ways such as Facebook, Instagram, LinkedIn, and even Pinterest. This kind of intel is important during concluding which content is best with your buyers and audience.
Conclusion:
By reading the above post I hope you understand how to do competitor analysis using digital marketing.
You can leave a comment below in the comment section if you need any queries regarding the above post ( How to do competitor analysis using digital marketing). We look forward to helping you.
learn more about Top 20 Benefits Of Digital Marketing Course For Small Business Owners Or else want to perform practically the strategy of digital marketing with me you can just fill-up the form below so that I can get in touch with you. Also, visit us at Darshan Sonar Digital For more queries.