How To Provide Better Customer Service In 2022 | Darshan Sonar Digital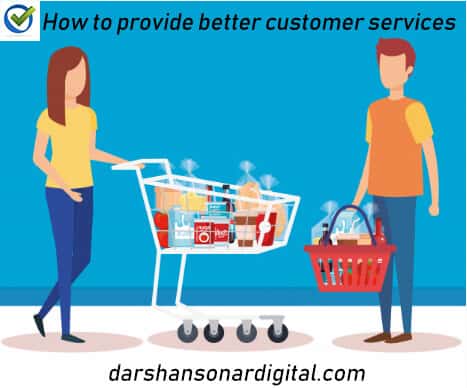 I don't think that I need to tell you how customers are ruling the market. Even nowadays they are deciding which product will place in the market and which won't. Mass customization and an excess of choices inside virtually every industry mean firms must compete for customers' interest. It's not only a product and amount that companies need to compete but customer service is also playing an important role. As we have seen earlier Customer Service Statics In 2020 now lets see the Statics In 2022.
Study shows that consumers don't have a problem with paying more money with organizations that present high-grade customer service, and will quickly switch to another brand when they don't attempt their expectations. Previous times went while consumers would choose a brand and stay with it for life. But now, brands must earn their customer's integrity with each synergy and figure out issues before they appear.
There are many ideas to deliver your brand more customer-focused. Analyze the following statistics on customer service and for new strategies for growing your customer service team. below I am presenting (The Importance of High-Quality Customer Service) and (The Power of Great Customer Service) through the reference of Hubspot.
Statics Of Customer Services In 2022:
The Importance Of High-Quality Customer Service:
90% of people use customer service as a factor in choosing whether or not to do business with a company. (American Express)
Investing in new customers is among 5 and 25 times more costly than retaining existing ones. (Invesp)
49% of American consumers switched companies last year due to poor customer service. (New Voice Media)
81% of Americans believe that business is either meeting or exceeding their customer service expectations. (American Express)
The Power Of Great Customer Service
73% of customers fall in love with a brand and remain loyal because of friendly customer service reps. (RightNow)
68% of clients said the service help key to a recent positive service experience. 62% said that this was also due in part to the rep's information or resources. (American Express)
Customers are willing to pay 17% more on a company that has outstanding customer service. (American Express)
77% of consumers would recommend a brand to a colleague after having a single positive experience. (Temkin Group)
93% of customers are likely to make repeat shopping with companies that offer great customer service. (HubSpot Research)
Brand Building And Brand Loyalty:
Now we are presenting for you Brand Building and Brand Loyalty from the Nextiva Blog.
67% of consumers worldwide say that customer engagement levels have grown in the last 2 years. Ameyo
Across the globe, 96% of consumers state customer service is an influential factor in their decision of loyalty to a brand. Microsoft
33% of customers who dropped a business relationship last year did so because personalization was lacking.Accenture
While asking consumers what affects their level of belief with a company, offering excellent customer service rated number one. Dimensional Research
48% of consumers expect specific treatment for being a loyal customer. Accenture
34% of companies are performing "customer journey mapping" within their customer service. Kolsky
72% of consumers say that when communicating customer service they demand the agent to "know who they are, what they have bought and had insights into their past actions."Microsoft
Brands are viewed more positively by 77% of customers if they proactively encourage and accept customer feedback. Microsoft
Two-thirds of consumers are willing to share private data with organizations but only in replacement for some observed value. Accenture
89% of consumers have switched to creating a business with a competitor following a poor customer experience.
The Loss Of Poor Customer Service:
Do you know more than half of Americans have rejected a planned purchase or transaction because of poor service, American Express 2017 Customer Service Barometer
33% of Americans say they'll think switching firms after just a single instance of bad service. American Express 2017 Customer Service Barometer
U.S. companies expend more than $62 billion annually due to bad customer service.Newvoicemedia.com
Americans tell an average of 15 customers about a bad service experience, versus the 11 people they will tell regarding a great experience. American Express 2017 Customer Service Barometer
74% of folks are likely to switch brands if they find the buying process extremely difficult.
Takeaway: Not only do you miss out on short-term sales with a hard purchasing experience, but you also drop out on long-term loyalty and more important LTVs.Salesforce
After one negative experience, 51% of customers will nevermore do contracts with that organization again.Newvoicemedia.com
Missing even a single client can be very expensive and harmful. It's crucial for companies to turn a complaint into a definite for the client and for the business progressing ahead.
Customers Experience Stats:
"We see our clients as welcomed guests to a party, and we are the managers. It's our work each day to address each important phase of the client experience a little bit great." – Jeff Bezos
75% of clients seek a faithful experience despite how they engage a business, e.g. social media, in person, by phone, etc. – Salesforce
44% of users take their business away due to ordinary experience. – 5NewVoiceMedia
75% of consumers will need to buy with stores that offer personalized experiences by 2022. – Salesforce
64% of customers want to shop with organizations that can satisfy their requirements in real-time. – Salesforce
50% of shoppers switch brands when their requirements are not answered.
The Despair Customers Face:
According to Esteban Kolsky, 72% of consumers will receive a positive experience with 6 or more people. On the other hand, if a consumer is not happy, 13% of them will give their experience with 10 or even more.
The challenge here lies in the fact that, in the largest cases, clients don't say you that they are miserable. In fact, only 1 in 25 miserable clients actually protest.
For lots of companies, the lack of negative feedback is a sign of prosperity.
But, as the research shows, this might not be the problem. Your clients may not be satisfied, or unhappy, they're sharing their unsatisfactory with others.
Customer expectations are at an all-time high and it's a tough time for companies to meet and exceed them.
Even if you give a positive client experience 9 out of 10 times, that one time you do not could be disastrous.
In their future of CX statement, PwC surveyed 15,000 customers and discovered that 1 in 3 consumers will leave a brand they love after just one poor experience, while 92% would totally leave a company after two or three negative cooperations.
India Statistics:
43% of Indians marketers use social media for client service – Gadgetsnow
Above 89% of a unit group, said they were ready to spend more with a business that gave good customer service – Business Today
More than 78% said they paid more with a business because of a history of confident client service experiences — Business Today
Superior 25% of people stated the level of client service was the most significant cause – Business Today
Over 83% of people use social media to speak about client service activities– Business Today
About 49% of Indian users state they always inform others about their bad service activities and even more numerous numbers (66%) state they speak about their good service activities. – Firstpost
Top 10 Tips for providing the best customer services.
1. Identify Your Customers:
There is absolutely no substitute for knowing who your customers are, why they purchased your product, and what they like or hate about your product. Use a help case tool that advances tracking client communications and information simple, so when clients communicate your support team, they have significant interaction.
2. Add Helpdesk Button:
It is a tool that raises customer interaction to help businesses reply to customers instantly and efficiently. Using a helpdesk allows your support team to offer a great possible experience to your consumers.
Keep trail of past client communications so you can choose up from where you left off. Switch these discussions into an actionable ticket, allowing them to the right department, and estimating levels of priority. You can even combine other team members for collaboration.
3. Be Friendly:
Customer service begins with a good smile. While you are in a face-to-face situation, a warm welcome should be the leading thing your customers notice and understand when they ask for help. Even when managing customer service inquiries via phone, a smile could come through in your voice, so be sure you are ready to be friendly.

4. Listen Carefully To Your Customers:
Listening is one of the easiest mysteries of customer service. It means listening to what your clients are speaking out loud, as well as what they are talking non-verbally. Watch for clues that they are displeased while hearing what they reply to you directly.
5. Use Good Language:
Positive language is an excellent route to evade unexpected fights that arise from bad communication. While the change is fine, the effects are rigorous. Suppose one of your products is back-ordered after a month and you need to transfer this information to a customer quickly. Analyze the following answers:
Negative language: We can't provide you product till next month. It is back-ordered and it is not available at this time."
Positive language: "I will make sure to obtainable your product in just following some days. I can fix the order for you right now and make sure that it is posted to you as soon as it arrives in our storehouse !"
Redirecting the discussion from negative to positive places concentrate on the offered solution. When the result takes center stage, it decreases the odds that consumers will be upset.
6. Be Apologetic For Any Inconvenience:
Right out the Customer Support Rule Book. Whatever the problem, whatever role your fellowship performed, regret, consumer, credit card didn't work, say you're sorry for their inconvenience. The product doesn't work, the First pause, confess. 3rd person holding a shipment, Apologize! When a client is upset, you must always apologize. American Express knows the value of a sincere apology
7. Ask for Feedback:
No matter how active you are, you will never be capable to get in front of each client issue. To make sure you learn from the good, the bad, and the unpleasant experience your customers have, build a simply convenient route for clients to give feedback.
Whether it's a telephone survey at the end of a service call, an email survey posted directly from your CRM tool, or a form on the "Contact Us" page of your website, building a means for consumers to give feedback makes it more comfortable for you to learn what requires change. It also assists prevent afflicted customers from talking their displeasure on highly obvious places like your social media pages.
8. Speak Your Customers by Name:
One of the greatest techniques to offer a more intimate client experience is using the client's name while speaking with them in person, over the telephone, by email, or during coming up with customer surveys. A more intimate way that doesn't feel forced humanizes the clients-business interaction. Keep in mind that, according to the study, customers usually become overjoyed when they listen to their name called.
9. Treat Employees Very Well:
In a number of cases, it will be the employees of a business who have the largest f2f contact with the customers. The more reliable they are treated, the more satisfied they will be while at work and this will be obvious in the way that they treat customers. The ambiance that is created by a good performing environment will be comfortable for clients too.
10. Omni-Channel Support:
It should be simple for customers to communicate with your support team, despite the medium they're using. Your team should be provided to reply to incoming service inquiries via phone, email, social media, live chat, and any other transmission channel that your customers favor. Implementing this type of omni-channel experience delivers your team more approachable and creates less stressful service communications.
11. Say Thank You:
Gratitude is memorable, and it can evoke your shoppers why they shopped from your store or hired your firm. Despite the type of business, you have, telling thank you for following every purchase is one of the simplest ways to start a way of good customer service.
Conclusion:
In conclusion, I hope you understand by reading the above post about Customer Service Statics In 2022.
Further, you can leave a comment if you need any assistance regarding the above post (Customer Service Statics In 2022). In addition, We looking forward to assisting you. If you want to study more about marketing strategies. But if want to perform practically with me regarding digital marketing you can just fill-up the form below so that I can get in touch with you from the Darshan Sonar Digital marketing course Pune.