Pinterest Marketing Strategies | Darshan Sonar Digital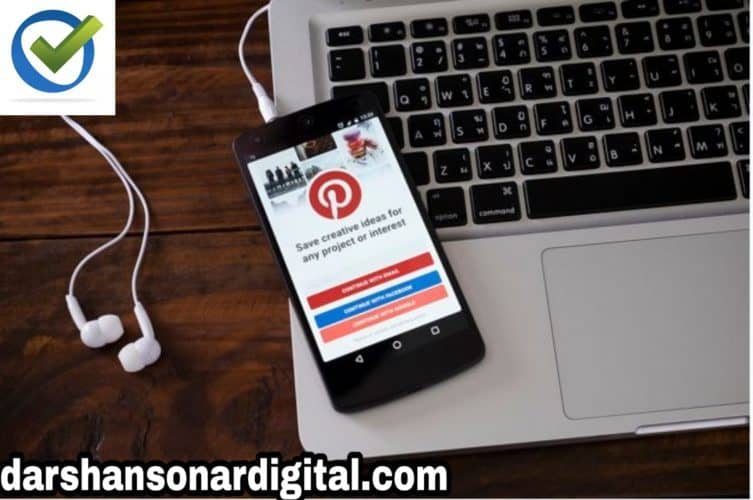 WHAT IS PINTEREST:
Pinterest is one of the huge platforms of social media. In which users can share, and store visual content like entertaining and inspiring many more. Users can pin their posts with a common theme to keep it well designed. For example, Pinterest is a very famous tool for recipes. People can browse by pictures of delightful-looking food, click on a picture that looks good and be taken straight to the recipe guidance when they click on it. They can also keep it to their own recipe board so they can obtain it later. Below we are going to teach you about "Pinterest Marketing Strategies" I hope it will be helpful for you. you can also visit us at Darshan Sonar Digital 1st Corporate Digital marketing course in Pune.
Why Pinterest Is Beneficial For Business?
Every person has a purpose to use and learn new things. Likewise, every person has a different reason to use social media networks like Facebook, TikTok, Instagram and many more. But Pinterest is a network where people look for inspiration, including particularly seeking out ideas about new products to purchase. That means they are inspired to see posts from brands in their news feeds. Only Facebook exceeds Pinterest in terms of influencing the U.S. (Pinterest Marketing Strategies)
HOW TO SETUP YOUR PINTEREST BUSINESS ACCOUNT:
Sign Up For Business Account:
Pinterest is the best way to target your audience. It is an extremely free social media platform that provides you to access Pinterest analytics and many marketing features.
First, go to the Pinterest page. And click Join as a business.
Then Enter your Email address, password, business name, and website, and choose For which section do you want to use this account. Public figure, media, professional, brand, retailer, online marketplace, local business, and many more.
After reading terms and conditions carefully click on Create account.
You've now got the empty bones of a Pinterest account, but you need to fill it in your profile details to make your brand appealing and reliable
.Log in to your new Pinterest account, click on the profile icon on the top right of your page and tap on Settings.
Scroll down to upload a profile photo, Then complete the "About you" section, and add the location of your business.
After that add your URL and Website. Then, click to Save your updated profile.
Once you created your account your home page will look like this as we have shown you below. Your followers won't be able to see. Just you will be able to see this after you log in. Your followers will see your profile, which you can obtain by clicking on the red thumbtack in the top right-hand corner.
Creating Boards:
Creating your own board will be one of the first things you'll do on Pinterest. if you're using Pinterest to organize the things you find online or share your valuable ideas and content with other people, Pinterest helps and makes it easy to start binding.
To create your first board, just go to your profile page, Then click to Create the Board. You can have boards as much as you want and they can be designed into themes, ideas, plans, or types of motivation to make it easy for your fans to find the content they're looking for.
Use Pins:
Pins are the kind of concepts that people find and save on Pinterest from all around the web. People can explore for them, save the things they like and click on a Pinto learn more. As a business, you can create Pins to present your products and ideas, and you can link them also to your website. To use pin use the following steps.
Install the relevant Pinterest browser button for your selected browser.
To Pin, something from the Web, tap the Pinterest icon on your browser toolbar.
Pick your favorite picture from the available options and click Save.
Add your description.
Then select the board to save your pin.
Build Your Following:
First, we learned how to create a Pinterest account, Then we saw about boards, After that, I explain you about the category and pins, But now studied about the type of content you're going to share, you can start building your base of followers.
It is very essential to work in this order so anybody who comes to your profile while you're fighting to increase your followers and become more authorized on the platform will be able to gain a greater understanding of the type of content you'll be posting including what your brand stands for.
Audience targeting:
Audience targeting helps you to reach a particular group of people by consolidating information about your customers.
You can create four kinds of audiences:
Customers list
people that went to your site.
And people that engaged with your Pins on Pinterest
people similar to a present audience list.
Create an audience:
Select Ads and click on "Audiences"
Tap Create Audience
Tap your audience type and click Next
Follow the prompts and tap to Create
When you will creating your customer list, Pinterest will search for people in your audience list that have current accounts on Pinterest. Every audience needs to have 100 people before you can start using it. For example, if you upload a list of 100 people but our system identifies that only 60 of them use Pinterest, then you will need to add more customers. Pinterest will never share audiences you've built or use them to target anyone.
Use Keywords:
By applying keywords during your profile, posts, Pins, and boards, you'll be more likely to organically arrive in users' feeds and searches. Keywords on Pinterest are related to particular niches being searched by users.
we have given below some locations in which you can insert keywords on Pinterest to increase your chances of organically ranking through search:
Bio or profile
Pin specifications
Board headings
Descriptions Board
Image Alt Text
Add Hashtags:
Hashtags are held on this platform, But on Pinterest. Hashtags in account descriptions, board headings, board descriptions or profile titles aren't clickable. Pin's description is the only way where you can click and search trending hashtags.
Examine the Pinterest Search Bar for trending Hashtags. Pinterest can provide you the most valuable and helpful hashtag suggestions in its search bar. Start with a general, broad term that's related to the item you're pinning, and just type # followed by that word into the search bar.
Conclusion:
By reading the above post I hope you understand Pinterest Marketing Strategies. You can leave a comment below in the comment section if you need any assistance regarding Pinterest Marketing Strategies. We look forward to helping you.
I hope you will be excited to learn more about other social networks. So keep connected with us and read our blogs on https://darshansonardigital.com/ for more knowledge concerning social media And if you want to perform practically with me about all social media networks you can just fill-up the form below so that I can get in touch with you from  Darshan Sonar Digital 1st Corporate Digital marketing course in Pune.