Tips To Promote Your Business Through Webinar In 2022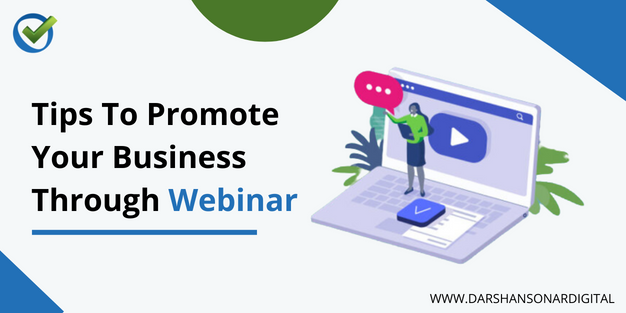 A webinar is a kind of online seminar. Most businesses perform an event marketing strategy that includes face-to-face communication. Event organizers book a venue, and attendees have to physically get themselves to that area. In this blog, I am going to give you Tips To Promote Your Business Through Webinar So, keep connecting with us……..
Online webinars are a distinct kind of event. Businesses who choose to create and host a webinar give any person living anywhere in the world to compete at the exact same time.
Features of the webinar
Chat
Sharing video and presentation
Polls and surveys
Whiteboard
Recording
Desktop sharing
How does it work?
If you are going to do business on the webinar then you should know completely how does it work. Below I am going to explain it……So keep engaging with us
Plan and schedule a webinar
Before everything, you necessary to schedule the event. It is easy to create an account on a webinar platform of your choice and use the dashboard to set the event's date, time and term.
The next step is planning. This is where you can customize the settings to compose a webinar run along with your goals and the viewers' expectations. You can also upload supplementary substances to make the information more accessible for your audience's attention.
Host a webinar
Always check your webcam, microphone, headset as well as internet connection before you dive the event. Sent the invitation link to your viewers, checked double that everything was ready and started the event. This is your opportunity to make a lasting impression on your audience and reach all your goals.
Speaking at live webinars goes like the following you just talk to the viewers while sitting in front of a computer or a tablet. But this is not the whole story. You need to use interactive tools such as desktop sharing to show digital graphs, tables, keynotes, and images. This will help reflect the information and make it easier for perception.
Members watch, listen, and communicate with one another and with you via the chat or the forum. Make sure you answer all the questions and reply to each comment. When required, an attendee can be given a platform. However, it is not feasible for you as an instructor to see any of the attendees through a webinar.
If you get hecklers or trolls at your live event, do not panic. Just block them yourself and ask the mediator to do it for you. Focus on producing quality content for your audience. At the end of the webinar, attendees can exchange questions and answers with one another. Normally, event recording is sent to all participants just in case someone was late or dropped the online meeting.
It is also a good idea to send a quick review to the attendees so that you know how to update them in the future. Now that you know what a webinar is, you are ready to design your first event. You can get these tips also……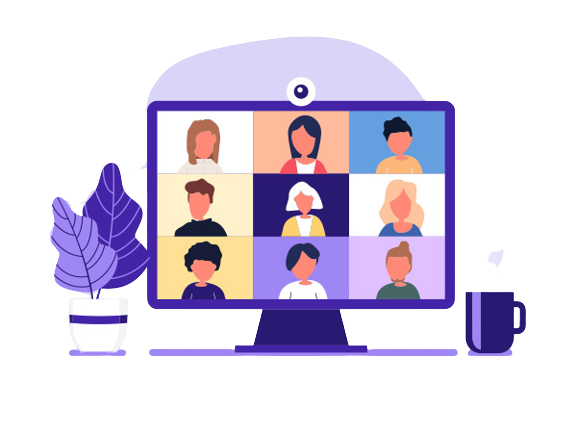 1. Create a Webinar landing page
Firstly you need to create a landing page for your webinar and use this page to drive registrations and present valuable information, including:
The topic.
Speaker information.
Date and time.
What attendees will learn.
Now that you understand what a webinar is, you are ready to create your first event.
2. Pick the right day and time
Pick the right day and time is important to host your webinar on a day and time that enables the maximum number of attendees. The best time for your business depends on your objective demographic, but a modern WhatCounts poll suggests that Wednesdays and Thursdays are the most suitable days for hosting webinars since Mondays and Fridays are typically filled with catch-up and last-minute assignments.
You can also use Google Analytics to decide which regions of the world most of your traffic comes from and select a time that serves best for those time zones. For example, if most of your website traffic comes from the US, you will not want to host your webinar when it is the center of the night there. Remember, you can always test with hosting your webinar on different days and times and compare company rates to discover what works best for you.
3. Practice your presentation
You have to make a plan for your webinar. Don't go in expecting to wing the entire thing. And definitely, don't expect viewers not to notice your lack of preparation. In fact, my company's webinar host has this advice for people going live for the first time:
Live chat. Get the help of a co-host to help manage the live chat feature if you have one. This way audience' comments are directed, but you don't lose track of the webinar.
Practice. Set up a mock webinar with your team to practice before really going live. This way you can secure all the equipment works, you know what you are doing, and you have moved on all the points you want to in the length of time designated for the webinar. This also gives you the chance to get valuable feedback so when you do go live you feel confident.
Remember, no one is perfect. It is okay to desire your webinars to run seamlessly. But the truth is, you are human and live events have the aim to reveal little flaws no matter how much you practice. Your attendees know you are living and is going to understand this. There is a huge difference between having technical problems and simply being surprised.
4. Decide on an engaging and educational topic
Always assure you to settle on a topic that is engaging, relevant, and attractive to your audience. There is no point in attending a webinar on a topic that only you think is interesting and exciting. Push yourself and come up with innovative schemes for a topic that would be engaging and educational for your audience.
When producing ideas for a topic, never take a chance in the dark and decide on a topic just based on your abilities. The safest way is to choose a topic that has already established itself. Check out your past blog post, ebooks, and social media posts to get something that has performed very well for you in the past. This will assist you to come up with an interesting and engaging topic and content for your target audience.
5. Build a well-crafted plan for your webinar
In marketing, there is no such thing as a box of luck. Every successful marketing effort is a product of a big deal of thought and preparation. The same goes for webinars. If you are striving for success with your webinars, you need to have a well-designed strategy. Before you start, question yourself… Why specifically do you want this webinar anyway? It can be used for many purposes and everyone needs a different strategy. So defining why you want to do it is the initial move towards a prosperous strategy.
You may want to attract new leads or grow your relationship with your new customers. You may want to begin a new product or service or simply establish yourself as a specialist in your niche. Whatever your goal may be, you need to realize that first.
6. Promote your webinar via Email
If you already have an email database, make assured to promote your webinar to your subscribers. Keep it short, concise, and make it simple for people to designate. Also, make sure you send out email reminders to people who have already registered for your webinar. For instance, you can email members one day before the webinar or perhaps one hour before it starts.
Then test what works best for you and keep promoting after it is over through all these channels as well, particularly any content that you write based on the webinar. You want to squeeze the most value out of your webinar as potential.
7. Offer a Call to Action
Make assured the audience knows what the following step you want them to take. For instance, if you want them to download a whitepaper or sign up for a free trial, let them know and present links in the webinar and in the follow-up email. It is one of the last tips to promote your business through a webinar
If you offer something to the audience, make certain it:
Clear and easy to understand.
It is easy to use and either save time or saves money.
It is a great deal that they can't get anywhere else. The price should be a no-brainer.
Solves problems.
It is only available during the webinar promotion. If they wait, they'll miss out completely.
It is easy to buy.
8. Make a teaser Video
Now a days promoting a webinar just by writing will won't work but if you make a short video and start sharing will work like magic for you. Videos not only reaches faster to the peoples but also grasps the attention of audience apart from just writing.
Just record 1-2 min of teaser video not more than that telling all about your webinar and what you are planning to cover in the webinar. When you are done with the video upload it on youtube because Youtube is the best social media platform to promote videos.
3 Common Webinar Mistakes To Avoid
1) Not Doing your Marketing properly or often enough
To get the more enquires or more registrations for your webinar start your promotions or marketing at least two weeks before the event. If you start a month before that's even better. Promote your webinar through all the social media channels as it is important.
Don't think much if you don't get registrations in at first. You are likely to get 69% of your total registrations a week before your webinar and 33% on the actual day of your event.
2) Not Respecting Audience's Time
When scheduling your webinar you should be very time conscious. Don't let your webinar to run for too long, else you will risk to lose your attendees. Prioritize starting and ending your webinar on time. It shouldn't run for more than 39 minutes, or max, 45 minutes.
3) Not Getting The Right Speakers
The very first and most important reason of people to join webinar is they think they will gain some quality knowledge. The webinar speakers determines this knowledge. It is important that they are capable of speaking to the subject you have assigned to them.
Not just expertise but the speaker should also have the art of engaging with audience. A boring lectures soon looses the audiences. Find out how goo speakers have their public speaking skills are by checking for their past experiences speaking at webinars or any other similar videos.
Conclusion
Webinars have to be for marketing purposes. You can also use webinars to train staff on various aspects relating to your business. This can assist you to motivate staff, boost confidence, and guarantee business practices across all sectors of your business.
I hope you have satisfied by reading this blog "Tips To Promote Your Business Through Webinar". You can comment in the below comment section if you need any assistance regarding the above post (Tips To Promote Your Business Through Webinar). We look forward to helping you.
Ready to start your campaign or else want to perform strategy practically with me you can just fill-up the form below so that I can get in touch with you. Darshan Sonar Digital is the 1st Corporate Digital marketing course in Pune.