Top 10 Reasons Why You Should Learn Digital Marketing | DSD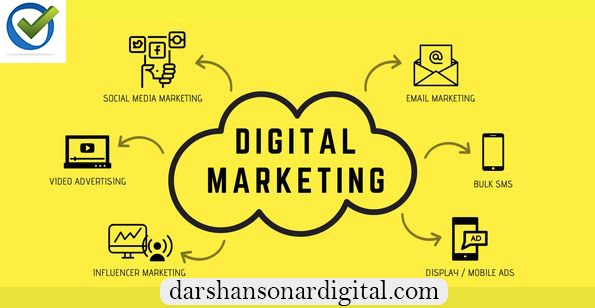 Why digital marketing?
The digital market is the key to groom and spread awareness regarding your brand, product, and services in digital ways like the internet, mobile phones, android application, ios applications using display advertising and many other digital ways. It doesn't matter who you are? all the professions can do this like Job professions, Business owner, Students, etc…So in this blog, I will give you Top 10 reasons why you must use digital marketing. So let's run through it…
Why you should know digital marketing?
Easy to generate leads from the digital sales funnel
The growth rates of Digital Markets are growing
Easy to drive traffic to your website from Digital Markets
Assists you stay ahead of your competitors
Easy to start a new creative business project
A spacious range of career options
1. Lead Generation
A lead is just a bunch of people who confers a piece of curiosity in your product and services. Firstly, you can imagine somebody who is given the communication information about him to visit a webinar, to download an easy guide, to sign up for your newsletter, etc as a lead. Because this man has set your business' website and gave your permission to contact them. Normally through email, but often over the phone, they are now inside your sales funnel. Thus, lead generation is the process of choosing your traffic funnel with somebody who is interested in your product and business.
2. Google Analytics gives you every single report in digits
The importance of digital marketing is growing day by day. Many Job professions, Business owners, and Students are focusing on Digital Marketing. Know everything in the digit.
Digital marketing is the term to know everything in the digit. Suppose you are a shop owner. You can't know this in traditional marketing which advertisement gives you most benefits like that was a newspaper advertisement, billboard, the pamphlet you shared? From where your customer is generated? Which age group of people is interested in your product among them? Who are most of them male or female?
I just want to ask you some questions like can you measure how many people revealed interest in the shop to buy a product? How many customers come and make it purchase? How many come again to purchase it twice? I am not telling you that you can't generate data but you can't know it exactly. You can't know this from the traditional way! So instead of using the traditional way to promote your business if you choose digital marketing, it could become far beneficial for your business. Because Google Analytics present you everything in the digit.
3. Brand awareness made easy through digital marketing
There are so many channels on the web that have the strength of marketing. Reaching people and telling them about your brand is easier than ever.
In this era, digital marketing is very important for your business and brand awareness. You probably know that every other brand has a website. And if they don't, they at least have a social media appearance or digital ad strategy. Digital content and marketing are so common that consumers now expect and rely on it as a way to learn about brands. Digital marketing has various options and strategies linked with it, you can get creative and experiment with a variety of marketing tactics on a budget. With digital marketing, you can also use tools like analytics dashboards to monitor the progress and ROI of your campaigns more than you could with a traditional promotional content such as a billboard or print ad.
4. Best ROI (Return On Investment) Campaign
Digital marketing gives the best ROI. ROI (Return of investment) measure the profit or loss generated by digital marketing campaigns. Most of the even 90% gives you a positive ROI. A positive return means your campaigns are drawing in more money than you're spending on them.
ROI explains to you whether or not your digital marketing strategy is on the right track. Without this analysis, you would be surrendering money into campaigns and wishing for the best, never knowing what worked, what didn't work, and how to best designate your budget.
If I tell you the best ROI campaign then email marketing has the highest ROI of any marketing method. It can get a huge 3800% return. That's $38 in revenue for every $1 you spend. About 20% of companies are viewing an ROI of $70 to $1 spent. Email marketing is a growth machine. But you do require a plan to build your email file with quality subscribers. Then deliver extremely important content to a subscriber's inbox. This is most often accomplished through a compound of social media marketing and content marketing.
5. Digital marketing is cost-effective
If we talk about small businesses in traditional marketing then survive due to a lack of resources and limited capitalization. This is why Digital Marketing gives them a better and much more cost-effective marketing channel that delivers better results. As stated by the Gartner survey, 28% of business owners viewed will shift marketing budget allocations from traditional media channels and invest them in digital online marketing tools and ways. HubSpot confirms this as shown in the chart below that confirms how digital marketers get more genuine Cost-Per-Lead (CPL) compared to other marketing channels.
6. Great way to earn the customer trust
Before customers make shopping from you, they require to be ready to trust you. They need to trust that your messages are correct, that what you are trading matches up to what you say it is and that if anything goes wrong with the transaction, you will support them. If you want to earn trust then use things like testimonials, reviews, and other social proof when trying to bring attention to your business. Promoting things like the sharing of your content on social media channels can do wonders when it comes to discovering a new customer base.
7. Everybody is online now
In the Era of digital marketing, everyone is online. Even 95% of your customers online also. Because they are beliving digital marketing is far better than traditional marketing. That's where your business purposes come into play. It's faithful that your clients are currently searching for you on the internet. If your business does ranks on the front page of Google then It becomes a huge influence on that client's judgment. it comes from the review of your customers. Then they enter the society of your customers. Encourage buyers to transmit
These days customers are looking for digital content and want each of their purchases to be unusual. Search engines like GOOGLE, YAHOO and BING are the most famous channel for search. A study shows that 82% of the buyers use websites and check reviews for search. Around 25% of consumers use social media and blogs to locate new solutions, products, and brands.
8. Tools and Technologies
There are so many tools free these days to increase fertility and efficiency in terms of performance. Sadly, some tools cost a lot of money and small or medium-sized companies can't afford to buy them. Digital marketing agencies already have these installed and give the wanted output. The tool is like Zapier, Aweber, MailChimp, InfusionSoft, LeadConnectio, and other analytical, CRM software. Most of these tools are adapted.
9. Outstanding Package
I know we are talking about uses of digital marketing but if you learn it with the intention of a job then it can give you a high paid job and you can by freelancing as well as. According to the survey if I talk to you about salary then it will be a minimum 4.5 lakh if you have experience but if you are fresher then you will just get between 2.5 to 3 lakh per year. Then you will face some difficulties to find a job. But if you once find the right one then no one can't stop you to earn money as per your dream. It happens because every agency or brand wants somebody who already has a few ages of experience. I hope you are understanding Top 10 Reasons Why You Must Use Digital Marketing
10. Immediate publicity
With the guidance of digital marketing, you can grow immediately. If you begin in the right place then you can grasp if something is operating for you or not. In online marketing, state, in social media, there is a chain of likes, shares, comments which benefit you approach new audiences. Which absolutely can not appear within additional marketing of course.
Conclusion
I hope you have enjoyed this post "Top 10 Reasons Why You Must Use Digital Marketing". You can leave a comment in below comment section if you need any assistance regarding the above post (Top 10 Reasons Why You Must Use Digital Marketing). We look forward to helping you.
Ready to start your social media marketing. Or else want to perform strategy practically with me you can just fill-up the form below so that I can get in touch with you. Darshan Sonar Digital is the 1st Corporate Digital marketing course in Pune.