Types Of Digital Advertising Campaigns | Darshan Sonar Digital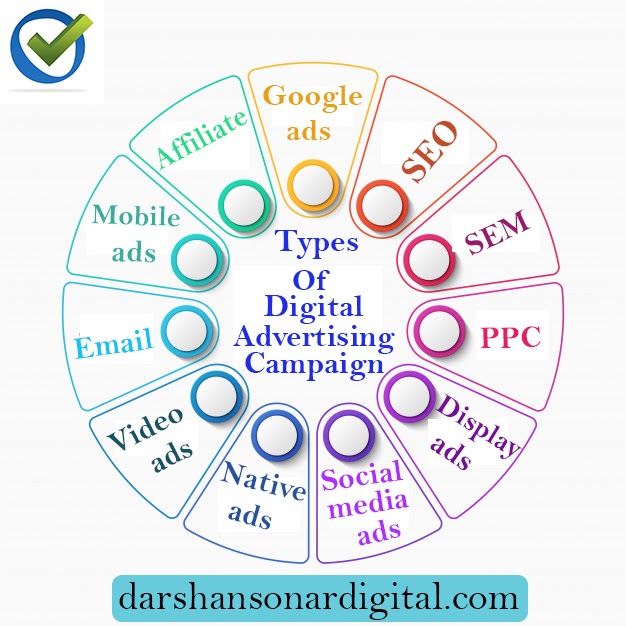 What is Digital Advertising Campaign
A digital marketing campaign is online advertising of your products or services. It is set to gain engagement, conversions, traffic, or revenue. The campaign ties in with the overarching goals of the company and carry one or more digital channels in the efforts. In today's era of technology, you see digital marketing campaigns each and every day. All of these kinds of advertisements combine together to build a digital marketing campaign. So we will know about the Types Of Digital Advertising Campaigns in this blog. Let's run through it…….
What we will read in this blog…
Google ads campaign
SEO
SEM
Pay-Per-Click Advertising (PPC)
Display ads
Social media ads
Native advertising
Video ads
Email marketing
Mobile phone advertising
Affiliate marketing
Google ads campaign
A Google ads campaign is an ads campaign within an AdWords account. A Google ads campaign is usually formed by many ad groups. Each ad group works various ad texts based on the kind of keyword a user may type into Google's search engine. General ad campaign groupings comprise geography, device segmentation, and product type.
SEO
SEO means search engine optimization. It helps to keep higher your website in search engine results pages (SERPs). It presents your website more visible to the audience who are finding solutions via search engines like Google, Yahoo!, and Bing. To gain a higher rank in search engine results, advertisers use different SEO tactics, such as linking, targeting keywords and meta descriptions and designing high-level content that other sites will link to. SEO is an organic way while SEM is a paid policy.
SEM
Search engine marketing is a very effective kind of digital marketing that promotes the websites by raising their visibility in search engine results pages (SERPs) fundamentally through paid advertising. SEM may incorporate search engine optimization (SEO), which alters or writes website content and site design to achieve a higher ranking in search engine results pages to improve pay per click (PPC) listings. Instead of paying for the actual ad, advertising pays all-time users to click on the ad to their website. Businesses profit by getting specific data about their market.
Pay-Per-Click Advertising (PPC)
PPC ads permit you to design your very own customized advertisements, set budgets, and view metrics once your ads are up and working. Similar to SEM other forms of PPC advertising also explain marketing classifications where the marketer pays for each click on a link to a website. Apart from search engines, nearly all social networks offer the opportunity for Pay Per Click advertising. These ads then rise in the feed of the targeted social media audience.
Display ads
Digital display advertising has a strong way to do advertising. It performs on websites, apps or social media through the advertising formats made of text, images, flash, video, and audio. The main goal of display advertising is to aware people of your brand and reach them in a limited time.
As stated eMarketer, Facebook and Twitter will get 33 percent of display advertisement spending market share by 2017. Google's display campaigns reach 80% of global internet users. Desktop display advertising exceeded search ad buying in 2014, with mobile ad spending overtaking display in 2015. This is such a genuine plan.
Social media ads
Social media ads are one of the fastest and most powerful ways to connect with our target audience. These ads bring profitable chances in digital marketing formats. Every brand is going on board with social ads on social media. The opportunities and types of ways to reach out to our audience seem endless, with obviously great models of advertising on social media and personalization. Social Ads are a profitable and varied advertising channel that provides us the strength to build specific campaigns on social media to reach a selection of various business goals at affordable costs. Do you know the frequency of social media users? If you don't then read this…
Social media channels and its users
FACEBOOK:- This is the most popular social media website. Over 1.5 billion people are active on Facebook monthly globally. Among Facebook users, 83% are women and 75% are men.source: Hubspot. It offers to share links, images, and posts on a page to get a better sense of a business and its character.
INSTAGRAM: Instagram is a totally free social media network. Where you can post information and photos regarding your business. It has 1 billion monthly active users all over the world.
PINTEREST: It same as Instagram. And it is a very interesting platform to boost your business. Globally 291 million people are active on it monthly.
YOUTUBE: Youtube is the largest video sharing site. Users can upload the video on it. And they can comment share and like the video as well as. Youtube has 2 Billion monthly active users all over the world.
Twitter: Every day 126 million active users possess on twitter from all over the world. A hashtag can play an important role to boost your post so be sure to use relevant hashtags.
LINKEDIN: It is a very big platform to reach to the audience. it helps you to get precious business offers. It has 303 monthly active users
Native advertising
Native ads are the type of sponsored posts that appear on your blog post, Facebook feed, and other social media channels. These ads are combined and camouflaged into the platform on which they appear. Forms of native advertising cover in-feed, search ads, recommendation widgets, and also promoted listings.
Video ads
You can use video advertising for promoting your business. It has the power to engage the audience emotionally. You can do many kinds of videos like educational or informational videos, or also how-to videos. Video advertisements are successful because they avoid loud advertising and because they are ordinarily very enjoyable. Just use good content. YouTube is the most popular channel to post video content, you wonder to know that 30 million users come to youtube for watching the videos and every month 6 Billion videos visitors watched on it. Assuredly, in just 1 hour 400 hours of video people upload on youtube. YouTube is such a most comprehensive platform than all other sites. This is one of the best types of Digital Advertising Campaigns
Email marketing
Do you know that there are 3.8 billion people who use email all over the world? 88 million emails pass people to each other in every single minute. If you don't then read this article. It is such an inventive way to promote and advertise your products or services. It is one of the top digital media channels which encompasses online marketing via the website, like social media, blogs, etc.
Email marketing gives you the highest ROI of any marketing method. It can get a huge 3800% return. That's $38 in revenue for every $1 you spend. About 20% of companies are viewing an ROI of $70 to $1 spent. Email marketing is a growth machine. But you do require a plan to build your email file with quality subscribers. Then deliver extremely important content to a subscriber's inbox. This is most often accomplished through a compound of social media marketing and content marketing.
Sending out friendly email newsletters regarding new services or products can increase your traffic.
Even just a common email can raise traffic on your website.
Just be careful not to bother people about every single update in your business.
Send out automatic trigger emails to consumers who have left their cart to remind them to execute their purchase.
Mobile phone advertising
Of course, all of the above types of digital marketing and all of them can take place on your mobile phone. That is named mobile marketing. You are probably utilizing Facebook, Instagram, and Google on your mobile phone after all. But there are some other sorts of marketing on your mobile phone that would not fit into any of the specified classes: mobile advertising. Definitely you have known SMS advertising has been throughout for some time now. WhatsApp as a marketing race is growing. And with technology such as Bluetooth still, on the rise.
Affiliate marketing
In affiliate marketing, the advertiser will not pay for traffic but will pay for conversions when it arrives in affiliate marketing. Although the rates are pretty high, the risks on the side of the advertiser are restricted since he/she will pay just for conversions. This method is familiar with bloggers or marketers who hold large traffic on websites. They make money by selling other people's products on their websites.
Conclusion
I hope you have satisfied by reading this blog "Types of digital advertising campaigns". You can comment in the below comment section if you need any assistance regarding the above post (Types of digital advertising campaigns). We look forward to helping you.
Ready to start your campaign. Or else want to perform strategy practically with me you can just fill-up the form below so that I can get in touch with you. Darshan Sonar Digital is the 1st Corporate Digital marketing course in Pune.