Why Business Use Social Media Marketing In 2022 | Darshan Sonar Digital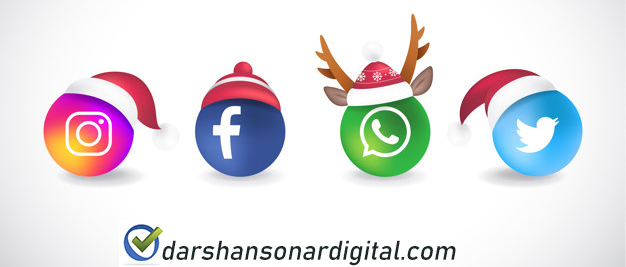 What is Social media marketing?
Social media marketing is the digital way to promote your business and brand. Here you can create content and publish product photos to reach your audience. It helps you to increase your brand loyalty, improve the SEO of your website and give the best opportunity to reach worldwide.
Why Business Use Social Media Marketing:
There are many social media platforms are there where you can start the promotion of your brand. For example, Facebook, Instagram, Pinterest, Youtube, Twitter, Linkedin. It is all about engaging your target audience and customers where they ethically interact with each other and your brand. Below I am expressing the strategy of social media form the source of Hubspot. You can also consume advance information by going through this link https://blog.hubspot.com/marketing/social-media-marketing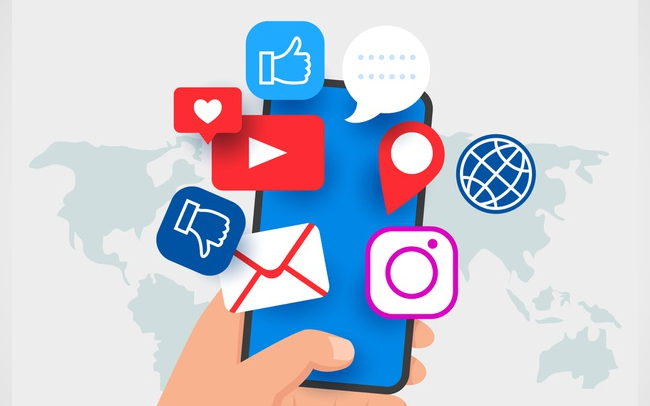 1. Most use social media sites:
Facebook
Users: 2.2 billion
Audience: Generation X and millennials
Industry impact: B2C
Best for: Brand awareness; advertising
Twitter
Users: 321 million
Audience: Primarily millennials
Industry impact: B2B and B2C
Best for: Public relations; customer service
Instagram
Users: One billion
Audience: Primarily millennials
Industry impact: B2C
Best for Natural-looking media, behind-the-scenes, and user-generated content; advertising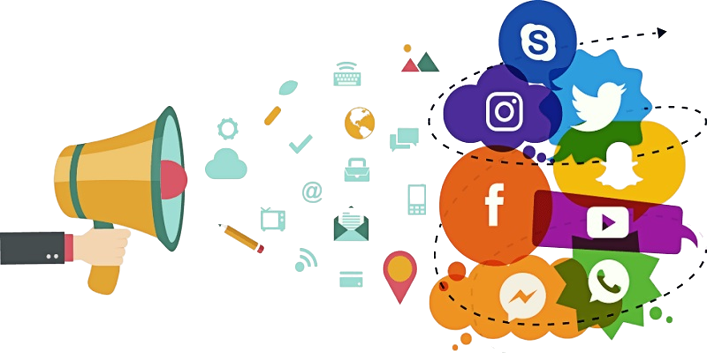 LinkedIn
Users: Over 575 million
Audience: Baby boomers, Generation X, and millennials
Industry impact: B2B
Best for: B2B relationships, business development, and employment marketing
YouTube
Users: 1.9 billion
Audience: Millennials, closely followed by Generation Z
Industry impact: B2C
Best for: Brand awareness; entertainment, and how-to videos
Snapchat
Users: 300 million
Audience: Primarily Generation Z
Industry impact: B2C
Best for: Brand awareness; advertising
Pinterest
Users: 250 million
Audience: Primarily older millennials and younger baby boomers
Industry impact: B2C
Best for: Visual advertising; inspiration
2. Audience storm on social media:
In the Era of the 21st century, we can't say we leave behind due to a lack of opportunities and resources. This Era of social media gives you lots of opportunities and benefits. Now in this decade, everybody is available on social media whether it is customer or businessman. So, why are you staying behind? Move forward and achieve the lots kind of opportunities and offers.
3. Brand recognition:
Social media is such profitable Digital marketing techniques that make recognition between your audience. You can also get employes, sponsors, and business partners to "like" and "share" your page. There are various kinds of platforms similarly like Youtube, Facebook, Instagram, Linkedin, Twitter, Pinterest, and many more. By implementing a social media strategy, it will help you significantly increase your brand identification. By spending a few hours in the week, moreover, 90% of marketers assume that their social marketing endeavors greatly improved their brand visibility and heightened user experience.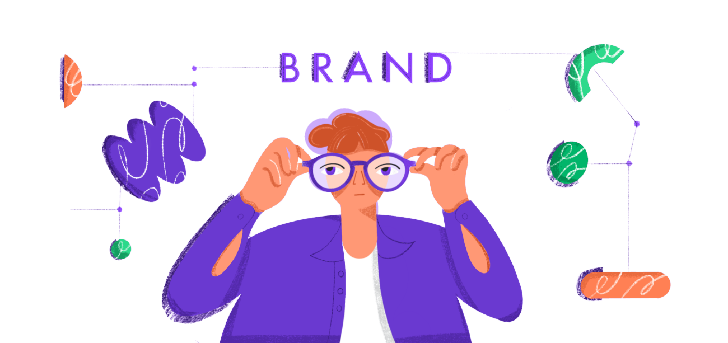 4. Journal of the market:
Due to a shortage of time, people refer to engage the internet to buy products whether it is expensive or inexpensive. They search either on google or social media. On social media, they not only get helped by lots of photos but also descriptive content. So this time social media works as a journal or menu for the customers.
5. Social media marketing is too cost-effective:
Social media marketing is a low-cost advertising policy so creating a profile on social media platforms is totally free. And if you want to invest in any paid promotion then it is also low cost as compared to other advertising outlines. And you can get great returns also on investment. In fact, HubSpot reports that 84% of marketers were capable to generate increased traffic with as little as six hours of effort spent on social media per week.
6. Get the opportunity to connect with search engines:
Social media provide you the opportunity to connect with many search engines. like, google, bing, Yahoo! DuckDuckGo, Yandex ru, Ecosia. the audience can search you everywhere from anywhere then it becomes the responsibility to be available on every platform. But if you join social media then you don't need to be worried.
7. The ROI on social media ads:
As of 2018, the common Google AdWords cost per click ranged from $1.20 for travel and tourism to $5.27 for education and profession. Depending on the keyword targeted, you can finish by paying $50 or more for a single click. Cost per purchase. The number of money businesses spends on ads to obtain a single customer alters even more, from less than $20 to over $200 for the licensed industry. With boosted posts, you have a lot more authority over when your message gets amplified, which means you can spend your advertising budget more strategically by concentrating on the posts that value most to your audience.
8. Social media marketing gives you higher conversion rates:
Social media has a 100% greater lead-to-close rate than outbound marketing tactics. That could be because every post you make and every interaction you have on your social media channels is a chance to switch an interested lead into a happy customer. By creating a report with your leads and customers and posting relevant content on a regular basis, your brand can work to develop trust and credibility, which leads to more progress.
The most important element of social media that results in more conversions is the capacity to bring a more human segment to your brand messaging. Since social media is a place for customers to socialize and network, brands are worthy to show the human side of their brand through light, often conversational content that enables each company to show their personality.
9. SEO:
Search engine optimization is very essential for obtaining higher page rankings and acquiring traffic to your business website. Social media doesn't immediately improve SEO, Social Media Examiner states that more than 56% of marketers who have been using social media for one year or longer yet see increased search engine rankings. Being ready to rank in the top sites for your keywords will transform your traffic and extend to generate positive results for your business.
Everyone uses Google for entertainment and learning, and they likely won't drive past page one because their solution usually is on the first page of results. If your business website isn't ranked on the top of search engine results, you should seemingly adjust your search engine optimization strategy.
To provide yourself the best chance of ranking better by social media, create high-quality content that unites your targeted keywords. blogs, infographics, case investigations, business data, and agent photos will make your business's social media profile interesting and reliable. Once you start posting quality content, you'll begin to build a social media community. certainly, it gives you more possibilities to get in front of industry influencers who will write about your business and provide links back which will assist to directly improve search engine rankings.
10. Reach globally:
Traditional promotional tools can also be used to reach a global audience but at a very vital expense. In contrast, using social media tools gives a very economical means of leading a global audience in a second! If your content moves viral, then there is no telling how many souls it will reach.
That is to say, social media is all about generating targeted people to join and communicate with your business page or profile. It is necessary to follow common social media practices such as continuous sharing, developing news, questions, humor, etc. to produce a constant communication to your page.
11. Each social media platform help you to reach particular audiences:
Moreover, A huge benefit of social media marketing is that you are worthy to target various audiences based on the channels that your brand is active on. Fairly just putting your marketing message out there for everyone to view, you can be at your target market and work to push more qualified leads back to your site.
Above all, create a clear list of your audience demographic values. This list not only can introduce their gender but also their age, location, interests, hobbies, and the brands they follow, etc. Knowing these will give you more ideas on which social media channel you should use to contact them. Also, this will assist you in producing content that will fascinate your audience, therefore, increasing your chances for progress. The more numerous this traffic is, the more likely you will be to boost growth rates.
12. Increase your sales:
A strong social media strategy could require expenditure. Social media marketing will have an emphatic impact on sales as it improves the overall appearance of your business, gets the audience talking about your business or service, and shows your products and services to a far broader audience. In conclusion, of course, the goal is to transform the user into a customer sales. When you communicate with your customers and you form a chain of faith with them.
Conclusion:
In conclusion, I hope you understand by reading the above about Why Business Use Social Media Marketing.
Further, you can leave a comment if you need any assistance regarding the above post (Why Business Use Social Media Marketing). In addition, We looking forward to assisting you. If you want to learn more about the social media market. And want to perform practically with me you can just fill-up the form below so that I can get in touch with you from the Darshan Sonar Digital marketing course Pune.