Creating Facebook Page For Business | Darshan sonar digital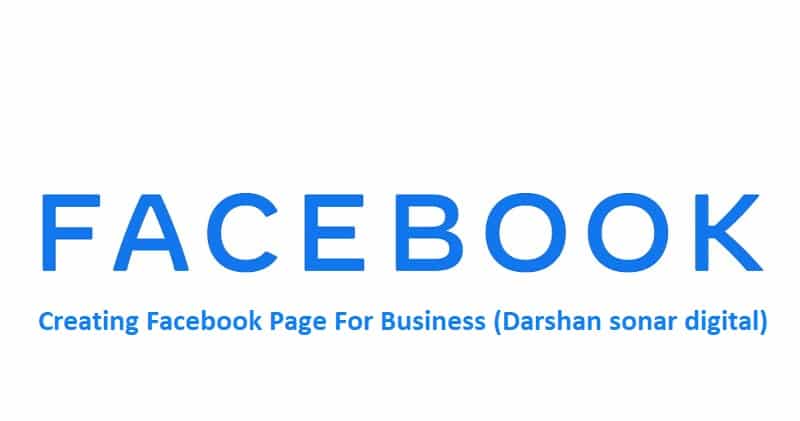 Facebook?
Facebook is the second large platform globally, followed by YouTube. Globally, more than 2.38 billion monthly active users are present on Facebook. (Facebook, 2019) Of the 2.1 billion total Facebook accounts, 270 million profiles are fake. 1.56 billion active users log onto Facebook every day. (Zephoria, 2019). Among Facebook users, 83% are women and 75% are men.source: Hubspot. Creating Facebook Page For Business will be most beneficial for you.
The average Facebook user spends at least 60 minutes daily on facebook. In spite of this, just 48% of marketers think their Facebook moves are effectual. If you want to know to create a Facebook page for business in more brief keep continue to reading this post and you can also visit us at Darshan Sonar Digital 1st Corporate Digital marketing course in Pune.
HOW TO SET PAGE ON FACEBOOK:
Guys, If you are thinking about to start a business through facebook so I can definitely tell you that you made the right choice for your business growth. You can create your business page on facebook free of cost by using your Emal id or phone number. You just have to do somethings which I am mentioning below.
First of all, you have to enter your name, then enter your contact information, after that set your password, set profile picture then upload your cover photo, Add a short description about your services and product, Set your page role, Then customize your notification, And don't forget to add your page CTA. CTA means Call to action is a marketing term like' buy now, click here, contact us, etc." After that organize your page tabs and in the last but not least Varify your page. This process of creating a business page on facebook will definitely help you to improve your sales and market. Read the full article to know in brief how to create a Facebook page for business.
CREATE YOUR FACEBOOK PAGE:
Facebook organizes pages only for a business owner, Brand organization, And Public figure to help to connect with their fame, Customers, And their lead. They can share stories, Photos, Events, And the Information regarding their product.
Then click on the page type:
1) Business or Brand.
2) Community or public figure
If you click on page creation, then Facebook offers you some mandatory way like Name your page, Category, Address, and Phone Number. So be aware to choose your Facebook page name wisely. Facebook allows you to change your Name and URL most of the time but it could be a difficult process.
ADD PHOTO:
The primary stage to give shape to your page is to upload your profile picture. So if anybody searches your name then profile photo appears with your name on the search list. Most of the publishers suggest uploading 180 x 180 pixels. Because it keeps stylish your photo on the profile.
ADD COVER PHOTO:
Then Facebook advice you to add a cover photo on your page. It is the long landscape image that appears at the top of your page.
ADD DESCRIPTION:
Add an impressive description of your page because it attracts the people to know more about you. You can add this by clicking on "add a short description" under the "Welcome to your page." Just two sentences are then enough to describe your page.
ADD USERNAME:
This is the last option that appears in your welcome menu. It helps people to reach your page. Keep the unique URL of your page.
SET YOUR PAGE ROLES:
As a………
1) ADMIN
2) EDITOR
3) MODERATOR
4)ADVERTISER
5) ANALYST
6) JOB MANAGE
CUSTOMIZE YOUR NOTIFICATION:
Go to the "notifications" from here you can customize alert of activity of your page.
ADD PAGE CTA: (CALL TO ACTION)
In 2014 Facebook permits pages to add a call to action button into their facebook page. It says site users to do something. It is important for two reasons. First, it could be used to bring people onto your page where they became a conversation. Secondly, it helps to increase your click-through rate. This is important to your SEO which makes your site reputable in search engines.
PAGE PROMOTION:
Send E-Mail, text messages, and generate a link to invite more people on your Facebook page. Also, add a social button to your links and E-Mail followed by which the audience comes to your social media site. Don't forget to invite your friend to like your page. And convince them to share this page with their friends too. Be active to gain like to build an engaging community. Post helpful content. Give responses to your messengers immediately. And try to look out every comment personally.
1)ADD A FOLLOW BUTTON ON YOUR WEBSITE:
Do it easy to add a follow button on your website or blog. Followed by people can come directly to your page.
3) CREATE A FACEBOOK AD:
facebook add creation is the easiest way to gain more followers on your page. Using Facebook targeting features you can reach the specific age, Gender, Area and more certain region.
4) SHARE HELPFUL CONTENT:
Make it clear to share all content regarding your post about your offers, Schemes, Services and much more should be directly proportionate to your page. Facebook is a trending platform about Photos, Videos, Even you catch your fan directly to share your service.
FACEBOOK IMAGES:
Image posting is a great facebook facility. You can post image your page to viral it and reach millions of people. It is located as a" PHOTO/VIDEO" below where it says "WRITE A POST." Normal facebook size does about…..
Profile Picture: 180 x 180
Cover Photo: 820 x 312
Timeline image: 1200 x 630
FACEBOOK LINKS:
After scrolling your newsfeed click the gray text which possesses next to your profile. You can enter the link thereafter that you can update the post. It is the simplest way to increase traffic on your page.
FACEBOOK VIDEO:
Click on photo video on your facebook page then click status update. This will require when you would like to tell the story and the video you like most you can share here.
LIVE FACEBOOK:
Facebook live is one of the most lovable features of facebook. It allows live streaming in every kind of cell phone which is above 3G and all computers and laptops. It is the best way to marketing your product.
CONCLUSION:
By reading the above post I hope you understand how to create a Facebook page for business.
You can leave a comment below in a comment section if you need any assistance regarding the above post. We look forward to helping you.
If you want to learn more about how Creating Facebook Page For Business, Then you can just fill-up the form below so that I can get in touch with you from the Darshan Sonar Digital 1st Corporate Digital marketing course in Pune.