Youtube Ads Format | Darshan Sonar Digital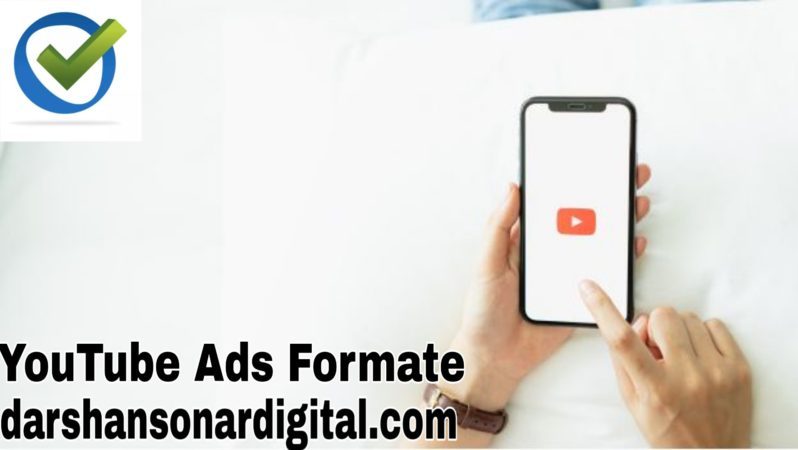 In this post, I am going to show you about…(Youtube Ads Format)
1) YOUTUBE ADS FORMATS:
2) YOUTUBE ADVERTISING CAMPAIGN:
3) YOUTUBE ANALYTICS:
1) YOUTUBE ADS FORMAT:
Video ads are an interesting way to influence and fascinate your audience on YouTube and beyond the web. You can organize and manage your campaigns in Google Ads, doing the "Video" campaign type which mentions below. If you want to learn practically Youtube Ads Format with me you can visit our institute at Darshan Sonar Digital 1st Corporate Digital marketing course in Pune
Bumper ads:
Bumper ads are non-skippable and 6 seconds long in length. This video success to attract people towards it and making their concentrations. It also engages viewers with it. When YouTube plays a short ad for them, it's not as irritating as a full-length ad. So, if you are going to run a six-second pre-roll ad, hats off to you.
TrueView ad
YouTube has the TrueView video ad format that gives the viewer options, The most common specialty of this ad that it gives skip option to skip the ad after five seconds. This could prove a great place to get started advertising on YouTube. It is very cost-effective to reach a relevant audience. But you need to pay only when the ad has a play for 30 seconds or more. And any action like( click and like) made by your viewers. Because you would rarely waste ad dollars on completely dispassionate audiences.
In-stream ads:
It plays before the viewer watch the video videos that they have selected on youtube, You can customize it with different text and CTAs, And you can also play it in other places like Google's display network, various kinds of apps or games. There are also mid-roll ads that can appear in midway through YouTube videos that could 10 minutes or more.
Non-Skippable YouTube ads:
This is a short in-stream video ad that may play before, during, or after another video. Onlookers must need to watch the ad before they're able to watch the selected video. It could be annoying. These video ads are sold on a CPM basis and may generate higher CPMs than other ad formats on YouTube. There are just two types of it pre-roll, mid-roll.
Pre-roll ads: which will appears before a video plays.
Mid-roll ads: It appears at the midpoint of 10 minute-or-longer videos.
TrueView Discovery ads:
It is like display ads, even we can call it to display ads. Actually these are the suggested clips that pop up on the YouTube homepage, or as suggested/prescribed videos on the search page. Discovery ads don't contain any limit for video length even people choose to drive them.
Now I Am Going to Teach You How to Set Up YouTube Video Advertising Campaign.
2) YOUTUBE ADVERTISING CAMPAIGN:
Once you've built an account then you want to advertise on YouTube, it's time to create your own campaign. Firstly, go to your Google AdWords account to set up the campaign. Then, be ready to set up your advertising campaign. Click the drop-down list on the right-hand side of the red "+ Campaign" button on your Google AdWords homepage and picked "video." Give the name of your campaign.
Video Ad Format:
Tap "In-stream or video discovery ads" to assure your video ad should be in TrueView format.
Budget:
Fix your budget accordingly per day. You can also select a delivery system unless the standard delivery, which shows ads evenly during the day, or accelerated delivery, which pushes views as fast as possible. The latter would be helpful if you aspire to capitalize on a trend or news item relevant to your brand's video.
Networks:
Determine where you want your ad to perform.
YouTube Search: Your video ad will perform in results for searches and will arrive on the YouTube home page, channel pages, and video pages.
YouTube Videos: This runs TrueView ads that can arrive at in-display ads or in-stream ads. With this benefit, you can choose for your video ad to appear before or around videos shown beyond the Google Display Network.
You should produce separate campaigns for YouTube Search and YouTube Video as this will help you to improve track performance metrics. These ads are served to people operating very different activities and require a varied amount of responsibility from the viewer, so it's best to control performance independently.
Locations:
set the location of users whom you want to show your ads. You can also eject certain locations.
Targeting:
Lastly, you can more define the audience whom you want to show your video. Include gender, age, and hereditary status. You can more target somebody by his interests, such as vision, cooking lovers, horror film fans, etc. Try managing various campaigns to spot several groups of users to identify who is most engaged, fairly than including everyone you want to target in one campaign.
Here we will learn about Youtube analysis.
3) YOUTUBE ANALYTICS:
It shows how many minutes viewers watched your video. It's a key of youtube because YouTube promotes videos and channels with higher watch times in their search results and suggestions section. Because the more watch time a video has, that means people are more engaging with it. In the watch time report, you can see the amount of watch time your videos have collected. You can also place each of your videos by watch time and classify your videos by themes, styles, and lengths to determine your several time watched videos.
Average Percentage Viewed:
The average percentage viewed is the percent of every video the average viewer watched. It contains your video's ability to hold viewers' attention for its completeness. And when YouTube obtains your videos can hold people's attention, Then it gets the reward for higher search and recommendation rankings
Average View Duration:
It is the total watch time of your video divided by the total number of clips plays, including comments. This metric measures your video's capacity to engage viewers. If your video failed to engage viewers, they will leap from your video quickly, transmitting you with an unimpressive average view duration. But if your video can engage viewers, your average view duration and total watch time will grow at the same time, the best averaged is about 60 and 70 percent.
Demographic:
You can know from here who is watching your videos about their age, gender, and geographic location. Getting to know about your audience can help you to make more beneficial, lucrative, and targeted marketing decisions. and also it could help you touch the markets you hadn't thought previously.
Traffic sources:
Here's you can find out how that wherefrom people are searching and watching your videos. Every item in the list below the graph can be ticked on to reveal particular information within that category. Did anyone find you by using a particular search term? Are you getting a traffic boost next to feature in a famous YouTuber's playlist? These are the questions for metrics can help you answer.
Subscriber Growth:
Anybody who is become your die-hard fans. Then they will aware and promote it in front of lots of people about your brand, content, and values. And they're most likely to be your fans too. Subscribers are very important to your channel because YouTube will send them information about your new videos and feature them on their homepage. This means they would able to watch your videos more often, which will help to generate, more views. Subscribers Report can show you which videos, locations, and time periods grow and lose subscribers. This data will know you what video topics grow with your subscribers and where you should target new subscribers.
Example of good youtube channel: – You can find a youtube channel of prasad vidhate and subscribe it!
Conclusion:
I hope you understand by reading the above about youtube Ads Format, Youtube advertising campaigns, and Youtube analytics.
You can leave a comment below in the comment section if you need any assistance regarding the Youtube Ads Format. We look forward to helping you. If you want to learn more about the social media market. And want to perform practically with me you can just fill-up the form below so that I can get in touch with you from Darshan Sonar Digital 1st Corporate Digital marketing course in Pune.