How To Increase Your Brand Awareness In 2020 | Darshan Sonar Digital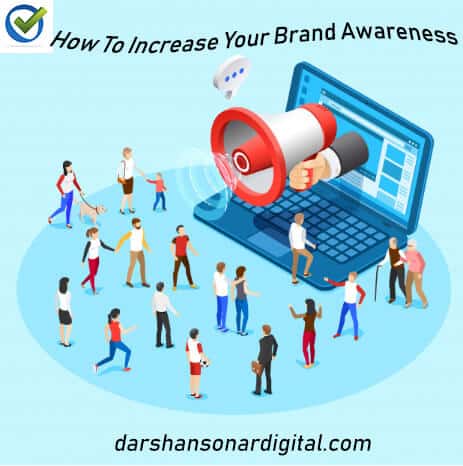 What is brand awareness?
The visibility and recognization of your company and its products or services in the market audience is brand awareness. The higher your brand awareness will be the more audiences will be familiar with your products and services. Building brand awareness is helpful while marketing and advertising your products and services. It keeps your brand top of the remembrance with your old and new audience.
It also describes to you how many your target audience is with you and how aware they are about your brand. brand awareness could prove a great selling point for you on several platforms in both ways inbound and outbound. You can aware of your audience about your brand by advertising and lead generation on social media. It is all about to generate more traffic on your web page and social media networks. So let's start how to increase your brand awareness in 2020.
How you can increase your brand awareness:
Social media campaign:
Social media are as large as the ocean you can be here zero to hero by using properly. You can operate by posting constantly. There are many things you can do besides posting to increase your brand awareness. If you receive any kind of message comments inquiries reply it immediately as possible.
Take advantage of Facebook campaigns like "Brand awareness" and "Reach" campaigns. These are great ways to promote your business from which you can reach the maximum targeted audience in quick time with an optimum budget. It will be surely Return On Investment Advertisement for your business.
i) Live stream on social media:
You can also run a live stream to aware more audiences towards your products. These are organic ways to leave a good effect on your targeted audience. And there are huge possibility comes in the form of conversion rate. You just need to choose the platform that has the highest engagement. Making effective and knowledgeable content to attract a number of audiences on your webpage and social media accounts. Also, it represents a call to action button to generate leads quickly.
ii) Use appropriate hashtags:
Hashtags are highly valuable assets of online marketing. It helps your audience to find brand products, and services and lots of posts which you generate by using hashtags. If you want to increase brand awareness immediately then remember to use appropriate hashtags. If you are using generic hashtags, your posts will be hidden in the swamp of posts. Make your own hashtag. It may be taken some times but it helps you build an identity and survive out from the crowd.
iii) Use Related photos:
Using related photos on your social media platforms plays an important role to build brand awareness. In the same vein, your Instagram theme can speak very much regarding your product and services. Creating a theme means that all of the photos on your account have a related quality. Several cell phone companies have a decent Instagram theme and each of them photos have similar vibes. So when a shopper views a photo that seems alike to their theme, they will compare it with this company. Not to consider, having a consonant theme just seems nice, put together and acknowledged.
iv) Unique and engaging content:
The primary and essential thing that you need to consider before posting your content should be unique, engaging, and most valuable like entertaining, inspiring, and educational. If you will write an ordinary content then your post won't be work and the engaging rate will decrease as well. So keep this thing in remembrance to improve brand awareness.
v) Being consistent is the key:
If you running social media accounts and promoting your brand there so your follower's requirement would be to read your content daily and hang out with your posts. It's mean you have to be consistent. And it shouldn't be like you are posting one post today and for another one, you are taking two and three months. If you will ever do this your followers would be decreased automatically because every person needs a constituency.
Offer freemium:
It is the Service furnishing by the company to use its products free of cost before making it purchasing. So it is very common to propose a freemium option with some terms and conditions. Most importantly offer 7 to 14 days free trial of product and services could prove the best option for you brand awareness. Usually, this service carried out with terms and conditions like they show a watermark and credit border on their product and services. Both users and sellers got happy because not only users get free products But also sellers get the opportunity to advertise and promote their brand by watermark which is located on-brand.
An influencer is a new brand:
audience support proposals from influencers more than usual promotion and even star approvals. Comparable to visitor posting, operators can start influencer-marketing operations by obtaining influencers in related applications and striking out with organization ideas. You can do this by just searching for exploring keywords on social ways and filtering through the support for influencer content. Asking influencers into your corner is an excellent idea to increase brand awareness and probably stimulate sales. once they introduce your products and present your brand in their content, those specifying will increase your ability and increase people's awareness of your product and services.
For example, you have known VIRAT KOHLI very well. He has such a huge following and he is ruling at number one according to the forbs in the formate of top ten celebrity. He is the brand ambassador of various brands like Puma, Wrogn, Uber, Boost energy, MRF tires and so on…So, I actually want to say every business whether it is small or big if you want to run your brand awareness rapidly then you will need to concern with celebrities and influencers.
Sponsor events:
Every festival, shows, festivals, and exhibitions you have seen. They required sponsorship without it can't possible to do such a big event. Sponsoring an event is the easiest and cheapest way to promote and increase brand awareness in front of your targeted audience. Within it, you would be able to succeed in leaving your name on banners, water bottles, chairs and some equipment of the event on which you can stick your brand name.
Email marketing:
You will wonder to know that there are 3.8 billion people who use email all over the world. 88 million emails people transfer to each other every single minute. Email marketing is an effective way to promote and advertise your products or services. It is one of the top digital media channels which encompasses online marketing via the website, like social media, blogs, etc.read our full article on https://darshansonardigital.com/email-marketing-strategy-in-2020-darshan-sonar-digital/
Content marketing:
Content marketing is an important marketing strategy centered on producing and sharing helpful, appropriate, and logical content to draw and hold an audience. Your content is the bottom of your inbound retailing industries. A marketing technique of producing and sharing important and helpful content to bring and engage a precisely set and recognized pointed public by the goal of inspiring successful consumer act. Study of content marketing as the bright to all of your retailing operations from social media and web site platform also including email marketing. Produce content that effects good to your target audience and inspires dealing. Because search engines compare good content with a good website, creating useful and appropriate content is very important. I hope you are enjoying reading how to make a lead generation strategy in digital marketing. Read our blog about how to make a lead generation strategy in digital marketing
Conclusion:
In conclusion, I am sure you will have understood by reading the above about how to increase your brand awareness In 2020.
You can leave a comment below in the comment section if you need any assistance regarding the above post (how to increase your brand awareness In 2020). We look forward to helping you. If you want to learn more about the social media market. And want to perform practically with me you can just fill-up the form below so that I can get in touch with you from Darshan Sonar Digital 1st Corporate Digital marketing course in Pune.