Instagram For Business | Darshan Sonar Digital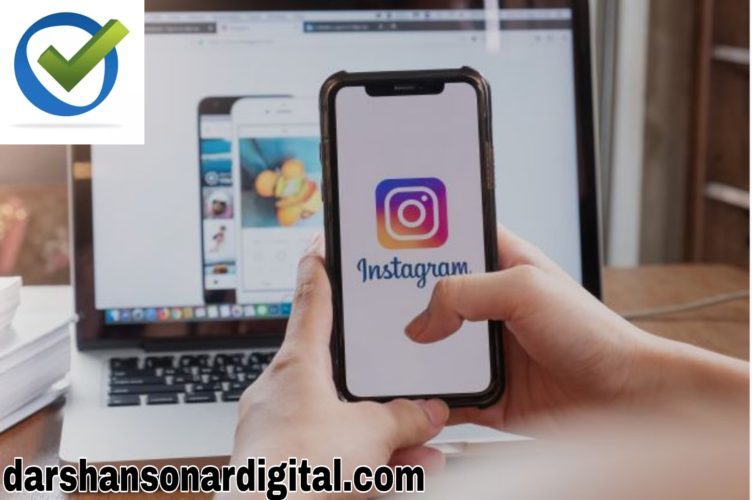 1: WHAT IS INSTAGRAM:
Instagram is a part of social media. That empowers the user to share their life event in the shape of photos and videos, you can add also captions, edit filters, and easily you can keep in touch with your beloved friend and fans, you can also advertise your business from here by taking advantages of an ad campaign in your setting. And if you want to join the course just visit us at our institute Darshan sonar digital.
Do you know!!! 71% of Instagram users are under the age of 35. (Statitsa, 2019). More than 500 million people are using Instagram every day. (Oberlo, 2019). Instagram is expected to reach $14 million in revenue in 2019. (Jefferies Financial Group, 2019). Over one billion people present active on Instagram every month. (Oberlo, 2019) There are more than 400 million Instagram users creating Instagram stories every day. (Statitsa, 2018)
THE REQUIREMENTS NEED TO CREATE THE INSTAGRAM AD:
First of all, You require to establish your Instagram Business Account. After that, you need to fix its setting. Then you have to fill up all the details of your account and your business specifications. Then you can start posting. Let me show you how to do it.
SELECT THE POST:
For creating an ad on Instagram select which one you won't like the photos, video, gif video, etc. then make sure your posts should have the ability to attract people towards your profile and should be Insist them to buy the product that you want to sell. And most important write valuable content in your post description.
HASHTAGS:
Hashtags are the main key and most fundamental elements it needs to create our Instagram ad. Always select the trending and worthy high performing hashtags and put it into your post
SELECT THE DESTINATION:
Click on the promote button then select the Destination where you want to post this ad. There are three kinds of the way by through you can post publicly.
YOUR PROFILE:
This is the first way to to create an Ad with an Activity button that says (Visit Instagram Profile) and link your profile so that people can access more posts and more videos on your website which you had uploaded ago.
YOUR WEBSITE:
It gives the opportunity to place the website address and the link of destination of your destination address for the people to make it easy to access it through the Instagram In-app browser. You can select from a list of options like watch More and Shop Now as to your Drive Button. So the audience can select a button so that we can receive a great lead from there.
YOUR SHOP FRONT:
This option is very helpful if anybody wants to call you else want to find your shop direction or want to massage you after that they can meet you directly. Your action button could say (Call Now or Get Directions and message me) it depends upon you that which one button would like to choose depends on which you want to choose.
TARGET AUDIENCE:
There are three orders are present audience selection.
1) AUTOMATIC: In automatic Instagram target your followers.
2) LOCAL: If you select "Local" from the target audience that's mean your want target audience from a specific area or location. It works based on your location. This selection too shows your ads to people you followers and nearby people of your location.
3) MANUAL: It is an interesting option by which you can select here places or interset to target. This option allows you to build a new audience. And also allows the selection of your target audience by category of age, gender, location, and interest. This model also comes with the option to add further add more interest to your list as your potential audience grows.
By using this we ensure you will have great control over the ads you provide. Ads are the use to target a particular audience by which we can receive the highest success ratio of all over time. Moreover, audience targeting also helps you to block people who do not belong to your area for seeing your ads.
BUDGET AND DURATION:
This is the very valuable part, the Budget, and the Duration of the ad. The budget influences the number of people who watch your ad. The provisions of people that you can target and reach will be costlier with more budget. but you can use the recommended budget it is comfortable and worthy for use for startup. And can also give you a good conversion rate and most profitable leads.
Once you build your follower base, you can easily convert them into your initial customers. I mentioned below some strategies and I hope that will help you to build your career in the Instagram business.
PROMOTIONS:
keep sales, with discounts, and presents a great way to push first-time sales with your fam. and mentioned what your followers that what they have to do to gain these offers, and also specify a deadline to generate urgency.
CONTEST:
A great way to gain someone as your lead and customer by trying them your product. Stream the contest that requires a new steamer and scroller to follow your account.
CHARITY:
The number of people expects their following brand who loved them to do some charity to those people who stuck in a huge problem. It could help to gain the most number of followers and if anybody heard that so and so company and brand made the donation to the people who were stuck in the huge problem. So the rate of increase in fam and sell could be high.
TEASERS:
Instagram is a huge platform to reveal information regarding the new product in front of your audience. And give them knowledge about your product in an installment. Because it develops an interest in the customer and increases the chances to maximize your sale.
LIVE CHAMBERS:
The live chamber is a great specialty of Instagram Stories. That allows the person to watch it in a real-time. When users beamed live video streams on their accounts, a ring sounds in Instagram profile Stories to alert followers that they should view the live stream.
CONCLUSION:
By reading the above post I hope you understand that how can we promote our business on Instagram.
You can leave a comment below in the comment section if you need any assistance regarding the above post. We look forward to helping you.                                     
And if you want to learn more about the social media market. And want to perform practically with me you can just fill-up the form below so that I can get in touch with you from Darshan Sonar Digital marketing course Pune.