How To Create Youtube Channel | Darshan Sonar Digital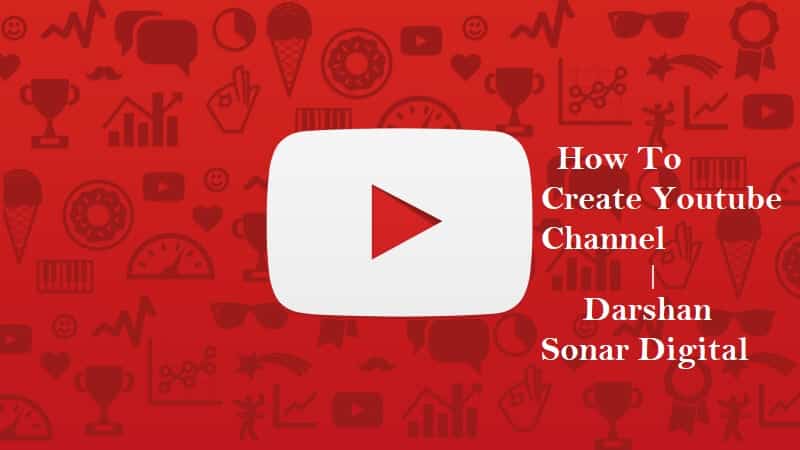 WHAT IS YOUTUBE:
YouTube is a free video-sharing platform. Everybody can upload and watch online videos without any cost. Also, you can upload here any kind of videos like Entertainment, Education, inspiration, Marketing, adventurous, etc. Probably I don't need to tell you that it is one of the most popular sites on the web. You won't believe that 30 million users come to youtube for watching the videos and every month 6 Billion videos visitors watched on it. Certainly, in just 1 hour 400 hrs of video people upload on youtube. YouTube is such a largest platform than all other sites. If you want to learn how to create a youtube channel and possessive to know what benefits you could receive. So just read this blog we are explaining it in brief and you can also visit us at Darshan sonar digital marketing institute.
HOW TO CREATE YOUTUBE CHANNEL:
Register a Google account:
First of all, you will need to have a google account to watch, Share, Like, And Subscribe to the video.
If you don't already have a Google account:
Visit on youtube and click "sign-in" on the right-hand corner. Then you will reach on Google sign-in page. After reaching there just Click on "more options." Then you need to follow some small steps to create an account.
If you have a Google account already:
If you have an account already then you need to follow some steps. Just go to youtube.com and click "sign-in" in the right-hand corner. Then you will arrive on the same Google sign-in page. After that, you can fill all the required details which youtube need to create your account. And also fill a name identity to show people what kind of service and content are you going to show.
Add your channel artwork:
Use the computer to set up your channel. It is the only way where you can edit your channel images and set your profile description and all the detail regarding your channel. it is not possible on a cell phone.
Just click on your profile icon on the top right of the screen and select Your channel.
Then upload an image, and adjust it properly to look pretty and attractive. Because Logo can define the quality of the channel. Let me know you that the recommended image for the profile should be just about 800 x 800 pixels. Hang out the banner image on the backside of your profile. Its size should be 2,560 x 1,440 pixels.
Add links and descriptions to your channel:
There are just two factors by which we can YouTube channel, descriptions, and visuals. Description brief adjective of your channel and what purpose is hidden behind it. What type of video you are uploading through your channel.
To express your YouTube channel for your viewers, you'll passionate to add a channel description and links of other webpages linked with your brand. Then come back on your channel customization dashboard, click on the "About" tab.
Here you need to fill some detail and add the information link of your websites and social media networks or contact information as well as.
Upload your first video:
Click on the "create" which is located at the top of your youtube screen. After that Click Upload Video.
Then select the video which you want to upload.
Before uploading add a small and significance description. but be careful your description should be just between 100 to 5,000 characters. And make sure to insert some relevant keywords in your video description.
After that, you can click on the publish button to the public the video. Till now I hope you are getting that how to create a youtube channel.
Video visibility:
There are only three types of visibility youtube present:
1. Public video:
Everybody can watch this on YouTube. They can like, share a comment on this video using YouTube.
2. Private videos:
The meaning of the private video is only you and your people whom you select would able to watch this. It won't appear in the search results. Also won't indicate to others who visit the "Videos" tab of your channel page. Comments are absence in private videos.
3.Unlisted videos:
You can share an unlisted video's URL with different people. The people you share the video with don't require a Google Account to watch the video. Anyone with the link can watch and re-share it.
Trailer video:
You could have a video trailer show to all unsubscribed guests on your channel. Your channel trailer is just like a movie trailer. Use it as a way to offer the research of your channel's offerings so viewers will want to subscribe. This helps keep the viewer concentration on learning about and subscribing to your channel.
Youtube Ecosystem:
Fans, publishers, or producers.
Fans, creators, or advertisers.
Creators, agencies, or publishers.
Brands, publishers, or advertisers.
This is a way by which everyone is connected with each other. Fans need a creator and the creator needs an advertiser and bothe need fans. In this cycle, everyone is incomplete without everyone. Because fans need publisher content and the advertiser needs a lead throughout his add which is stream in front of us before starting a video.
YouTube Creator Studio:
The youtube creator studio is the replacement of classic video studio that was loved by the creators on the platform. It adds up to the user helpful supervision system and analytics results. It gives the facility to edit and crop your video and now you don't have to take any particular type of app.
Youtube analytics:
YouTube Analytics is a plus point of your channel. it indicates how to uncover trends to see what's working and what's not. It helps to Find out who is watching your video, what kind of content they like to watch, and which videos could make you the most worthy.
How can you see analytics on YouTube?
Go directly to youtube.com/analytics then follow the steps. 1) Sign in to YouTube and click on your profile picture to Creator a Studio. 2) On the left menu, click on Analytics. 3) After that select the report you want to view.
Conclusion:
I hope you understand by reading the above post that how to create a youtube channel and how we can upload a video on it. You can leave a comment below in the comment section if you need any assistance regarding the above post. We look forward to helping you. If you want to learn more about the social media market. And want to perform practically with me you can just fill-up the form below so that I can get in touch with you from the Darshan Sonar Digital marketing course Pune.