TikTok Ads Case Study | Darshan Sonar Digital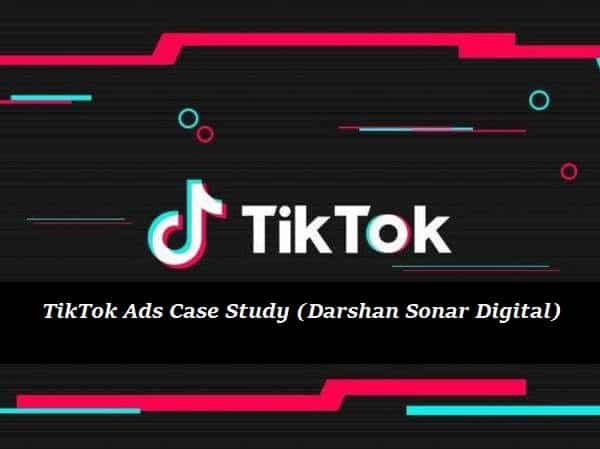 Tiktok doesn't need any kind of introduction in the present world. It enrolls his name in the biggest platform of social media. It is created by a Chinese company called ByteDance. In 2017 ByteDance created musically. ly later it gets merged into Tiktok in 2018. It is an iOS and Android social media video application. Tiktok allows you to create, record, edit and share the video of 15 to 60 seconds. Also, it provides feature visual and sound effects. So in this blog we will study about TikTok Ads Case Study keep engaging with us to gain valuable information.
Tiktok has more than 500 million monthly users. It was downloaded nearly 240 million times in India in February 2019. And more than 30 million users had been installed this app in January 2019. It was the most downloaded application in America in October 2018, It was the first Chinese application to which reach this highness. It is accessible in over 150 markets and in 75 languages. In February 2019, TikTok, with Douyin, reach one billion downloads globally. W e have the best opportunity for you to learn more about digital marketing so you can visit us at Darshan Sonar Digital 1st Corporate Digital marketing course in Pune.
Indias reached 5.5 billion hours on TikTok. this is increasing more than 6 times from the 900 million hours spent in India. According to the data android user imposed by mobile and data analytics from the app, Annie TikTok outspread the growth of competitive Facebook in the key battleground market for global user domination.
DEMOGRAPHICS:
While TikTok's user base is ruled by GEN-Z in the united states, numerous people have chosen it around the world. Some times it felt like the U.S has a large base of Tiktok users but this app has more audiences in china where the app called Douyin. Here's a breakdown of TikTok's influential demographic stats.
Approximately 50% of TikTok's global audience is under the age of 34 with 26% between 18 and 24.
56% percent of TikTok users are male.
Near about 500 million of TikTok's monthly active users are Chinese.
More than 26.5 million monthly active users in the U.S.
60% of TikTok's U.S. audience is come through between the ages of 16 and 24.
It is used by more than 200 million millennials in India every month.
Tiktok is available in 155 countries nowadays.
It is available in 150 markets, with 75 languages.
TikTok users spend an average of 52 minutes per day on this app.
Tiktok user statics:
As I mentioned above that TikTok is available in more than 150 markets around the world, with 75 languages. And the latest available statistics show that there are over 500M TikTok monthly active users around the world. This was figured out in June 2018, But I thought that figure is higher more than this point. It is also true that this app gets installed by 800 million times by October 2018.
According to data presented by the marketing intelligence firm Sensor Tower, TikTok was downloaded by 104 million times on the ios App Store in the first half of 2018. This makes it the most downloaded app on the platform over that period. TikTok Ads Case Study
User Behavior:
TikTok is a very fast app. After a second of your login, you can see a video in front of your news feed. If you enjoy the video you can watch, Like, Comment, And the person which make this video. If you don't like the video you can keep swipe it in an upward direction to watch another video.
TikTok can easily induce you to spend more time than expected watching an endless stream of often comedic videos. Usually, these videos belong to 15 to 60 seconds, This makes it ideal for users who need quick entertainment when they fell bored.
HASHTAGS:
TikTok is similar to Instagram and Twitter with heavy hashtag. From my experience, I don't see the hashtags being all that powerful. The algorithm is sure to be analyzing content for more than just plain text hashtags. Plus, the number of hashtags is limited because the caption text that accompanies each video is only about 100 characters.
Why TikTok can become the best choice for business:
TikTok was earned 3.4 crores in its first year of launch. This became a sign of where this new form of the app will be commanded in the coming years, It was not just as a digital recreation for people but for brands who have now started profiting from it.
Let me know you that Tiger Shroff and Disha Patani did Pepsi India's crowd-sourced videos for #SwagStepChallenge that has over 23 billion views on the TikTok, while Lay's India's #Wavez4India has just crossed 9 billion views. Looking at these numbers, can you ignore the storm of an app that TikTok has become? Absolutely not.
IS TIKTOK GOOD FOR YOUR BUSINESS:
You have to examine your market. Do you, or will you, want to approach a younger audience now or in the near term? Then it's worth examining and experimenting with now so you at least have an idea of what it's all about. With the reputation of vertically-oriented, short video platforms (TikTok, Instagram Stories, and Snapchat), learning about creating in this format could help you to prepare for making good advertising strategies in the future.
Organic Business Building on TikTok:
For small businesses, building a fan base organically is apparently the best plan. And now TikTok is more of a content network, as exposed to a friend and connection network, the TikTok can assist you in recruiting new base. That's more efficient than doing the hard work of searching out connections on social media. Even though the videos are short and you have assistance, building a TikTok audience will take time but it could prove a great source of benefits for you.
If you are setting up your profile as a business account, Then you can get some very healthy analytic data about your content. Building followers and creating a business account are both free. On the other side, you are allowed to carry active links to your Instagram and YouTube channels that show up as buttons on your profile. So if you are a presence on those networks, TikTok could work as a feeder for them.
Conclusion:
I hope you understand by reading the above post about what is the TikTok Ads Case Study.
You can leave a comment below in the comment section if you need any assistance regarding the above post-TikTok Ads Case Study. We look forward to helping you. If you want to learn more about the social media market. And want to perform practically with me you can just fill-up the form below so that I can get in touch with you from Darshan Sonar Digital 1st Corporate Digital marketing course in Pune.