How To Create Digital Marketing Strategy For Real Estate in 2020 | Darshan Sonar Digital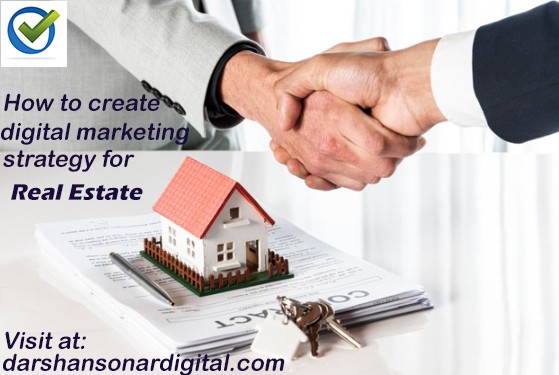 Real Estate and the Importance of Digital Marketing
The real estate industry is very competitive in both ways whether it is offline or online. Digital marketing is the modern way for the real estate industry to reach every single prospectus in a smaller time. Digital marketing Furnishes customers to select more than one option. With the help of ROI, you can know the status of every single rupee. I am sure that your digital marketing strategy can have a much more magnificent impact than traditional marketing strategies. So before starting How to create a digital marketing strategy for real estate, let me explain to you that there are many channels by which you can reach to your targeted audience like:
Social Media
SEO or Search Engine Optimization
E-mail Marketing
Blogging
PCC
1. Email campaigning:
You will wonder to know that there are 3.8 billion people who use email all over the world. 88 million emails people transfer to each other every single minute. Email marketing is an effective way to promote and advertise your products or services. If you are spending one dollar into the email marketing then email takes responsibility to make a 38% return on this investment. The average open rate of emails for real estate companies is nearby 27% with a click-through rate of 3%. But, the higher important your content is to a client, the more likely they will be engaged in opening the email to view what you have to tell.
2. Make your site mobile-friendly:
According to the survey, people choose to use smartphones instead of a desktop for exploring on the internet in their free time. In fact, a current study has revealed that 80% of Internet users use their Smartphones for online activity. If your webpage is not running or operating accurately on a smartphone, then it paly a breaker between you and your audience. Analyzing the people using their smartphones and how much traffic are you engaging from your website due to this purpose alone. The best answer is to do a complete website scan and target the regions or pages that are not mobile-friendly. Have you create webpages that are either more active or have a completely distinct stand-alone website for smartphones.
3. Create blogs:
Blogging is the most powerful operator to drive leads onto your website and provide beneficial advice regarding purchasing or selling a home or property.
A blog also permits you to formulate a comprehensive range of keyword-laden content that can be located in the search engines. It can bring a lot of adequate prospects to your website. If you are using digital marketing then the content is a very needy thing in real estate industries whether it's shared on your website or social media.
Moreover, Digital marketing furnishes the real estate industry to posts blog on Facebook, Instagram, twitter LinkedIn and many more. Externally a blog, your SEO purposes can't be fly.
4. Paid promotion (PPC):
You can draw an audience at you your real estate business or your current properties. If you are choosing paid promotions like social media ads, or google ads. Advertise your campaign where your leads can come. PPC is a fabulous digital marketing option for real estate industries asking the inherent audience who may genuinely be inspired in their offering, as they solely pay when someone clicks through their ad.
Consider spending for ads on local interior design site or family-oriented blogs, or even on your own personal real estate blog. That way, you can know your advertisements are signifying seen by valuable audiences.
5. Social Media:
Social media marketing is the digital way to promote your business and brand. Here you can create content and publish house and property photos to reach your audience. It helps you to increase your services loyalty, improve the SEO of your website and give the best opportunity to reach worldwide. It is pretty much flexible in the real estate world, and there are loads of ways to leverage social media for your marketing.
A dedicated page on Facebook, Instagram, Pinterest, and many more channels can assist you to unite with potential customers, sell your homes, and spread your blog content. Social media is also a great way to connect with clients personally. As an individual marketing his- or herself, it's important to create personal, emotional connections in an effort to get business. When it comes to buying or selling a home, clients don't just need to know that you can do your job they need to know that they can trust you, too.
6. SEO:
SEO is a stand for search engine optimization. But in the real estate industry, optimization endeavors are mostly concentrated on acquiring at local SEO. Whether a real estate agent is looking to engage in an e-mail marketing campaign, establish a stronger social media presence or engage in a more generalized form of digital marketing, their SEO is bound to improve tremendously. As of now, we just think Google as a reliable search engine, but research proves that Bing and Yahoo managed a steady search market share. Therefore, it is important to include each platform to get the full picture.
7. Better Relationships With Customers:
You know every real estate agent keeps track of resources, potential leads, and modern customers. Real estate CRM is also essential when it comes to automating accurate assignments so that dealers can move out to clients on appropriate occasions. CRM software is also a beneficial tool for brokers that need to sort their customers by special criteria. App development firms provide brokers the tools that they require to control the power of CRM software.
8. Video campaign:
People love to watch videos over content and audio. You will just found 18 to 20 in a group of 100 people who like reading and listening rather than watching videos. In various forms, it looks that YouTube has now graced modern TV. Video campaigns could prove the most beneficial for real estate industries. You can just upload there every single update without any charges. If I tell you a little summary about youtube then you will be shocked. You know that 30 million users come to youtube for watching the videos and every month 6 Billion videos visitors watched on it. Certainly, in just 1 hour 400 hrs of video people upload on youtube. Then you can imagine the power of video to increase your business.
Conclusion:
By reading the above post I hope you understand how to create a digital marketing strategy for real estate.
You can leave a comment below in the comment section if you need any queries regarding the above post (how to create a digital marketing strategy for real estate). We look forward to helping you.
learn more about How to do competitor analysis using digital marketing Or else want to perform practically the strategy of digital marketing with me you can just fill-up the form below so that I can get in touch with you. Also, visit us at Darshan Sonar Digital For more queries.