How To Prepare For The Interview Of Digital Marketing in 2020 | Darshan Sonar Digital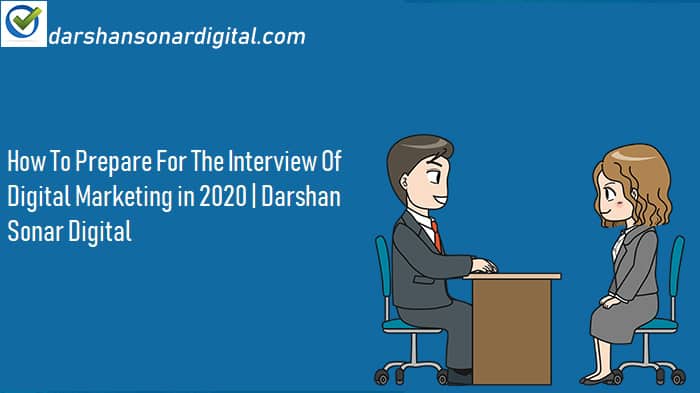 Digital marketing is one of the fastest-growing sectors of this time, and it will definitely rule in the future. But it is also the sad truth that it is not easy for fresher to find the best job with a good salary and a better future in digital marketing. If you're new to the marketing field or fresh out of the college. Then you will face some difficulties to find a job. But if you once find the right one then no one can't stop you to earn money as per your dream. It happens because every agency or brand wants somebody who already has a few ages of experience. So how do you get that experience without having a job? Here are some Tips For Digital Marketing Job Interview in 2020.
Lets Discuss About How To Prepare For The Interview Of Digital Marketing in 2020:
Prepare an attractive resume:
Your resume is not only your mirror but also carry your first impression inside the words. It also wraps the topics of conversation for your job interview by featuring your skills, listing your documents and sharing your performances with your prospective employer. Most importantly you can prepare your resume followed this link (DMI)
The best-customized resume lets you feature your qualifications, experience, skills, and performances that are the most important for the job you're appealing for. So, you send a special letter to the interviewer concerning your most important strengths and appropriate experiences.
This doesn't just get you the interview. It also helps the interviewer decide what he should ask you in the interview. In several cases, the abilities and experiences that you state in your resume play a significant role in defining the questions you will face.
Before applying for any digital marketing job, Prepare a perfect resume for the position you are applying to. Not only you will stand out before the interview, but you will too set the platform for a more specialized job interview that highlights why you're the best decision for the job.
Don't be worried to criticize the company's website and social media networks:
You may get asked lots of questions. One of them may be that have you ever studied the company's website or social page. Don't panic, this is not a trick question and no one is looking for your compliments. This question is asked to recognize what fresh shrewdness and attitude you can bring.
It is an excellent chance to elaborate that you've done your research on the company. And that you spent extra attention on the website and social profiles. The interviewer can also appreciate listening to any ideas you have. If you give them any suggestions or ideas then It will lead the interviewer to assume you have spent time on their sites and accounts.
If for some cause you are not asked regarding the website, bring it up, with unusual recommendations and fields you believe could be fixed upon. The interviewer will acknowledge knowing that you didn't ignore to review the company's digital assets.
Online Presence:
An online presence is about how easy it is to find a brand or company online. It's essential for raising your brand's reputation, boosting brand awareness, and granting visibility to your products or services when users are seeking for related keywords. Fascinatingly, employers look at social media in all steps of the interview process. It means that even if your interview is victorious, a poorly thought out Tweet from years ago or a social media party photo could be all it needs for you to miss out on getting a job proposal from the organization.
Elude dropping out on great chances by improving your social media appearance before you start the interview method. Modify your Facebook account's privacy settings so that anything apart from your name and location is transparent to non-friends. Examine all your social media account and delete all inappropriate post that could harm your character. Google your name and investigate the first couple of pages to make sure there is nothing that could destroy your chances.
Classic Rules Of Job Interview:
As a digital marketer, it is not like working at well-reputed organizations, but there are some common features. There are some tips which you have to carry in your mind.
Be courteous and familiarize yourself to everyone you meet with the purpose of creating a magnificent initial impact.
Groom decently to stand out in front of the person who listens to you carefully.
Be punctual for the interview and carryout extra copies of your resume and recommendation list beside you.
Evade indecent habits like lounging, eating or speaking indistinctly. While, concentrate on holding a great attitude, sustaining eye contact and be hearkening to your interviewer.
The digital marketing field is less conventional than the pattern in several forms, you won't missa little thing but earn a great deal by accompanying the traditional rules of implementing for a new job.
Satisfaction in google analytics:
In simple words, the Digital marketer is an analyzer of the market. You can see yourself running with the web, social or online promotion analytics. As a conclusion, you necessitate showing that you are enjoying working with the analytics and performing them. Everyone can know the numbers of a spreadsheet. What will place you aside from other applicants will be your strength to represent that you can capture a kit of data and put a tale with it.
Present transparent samples from preceding campaigns you have operated on and describe how your insights assisted to enhance the result of the campaign. If you have not had a chance to work on analytics in your professional activity, then strive to obtain as much appearance as you can outside of the craft. Begin a content writing and install Google Analytics. Log in to your Facebook account and check out your post' analytics there. There are many online sources to assist people to discover regarding Google Analytics.
How to answer the questions:

It's not possible to answer every question even having a piece of good knowledge about the company. It just requires 1 poor answer is enough to destroy a job interview, presenting it imperative that you are made for at least some kind of the questions you suppose to suffer. In any enterprise, a number of job interviews consist of the similarity, or parallel, questions. HubSpot produces a list of some questions pointed at general marketing job interviews. Both lists carry a few questions. The questions interviewers use to evaluate your abilities and approach.
Planning before the time for important topics has numerous advantages. Firstly that you will have clear about everything, justified answers for the questions that matter. You will be capable to answer immediately and present actual utility, separating yourself from other applicants. Secondly, and maybe the most significant benefit is that you will grow faith. Rather of having to resume and halt, spending your pace in doing so, you will perform into each question by the confidence that you understand how to answer not just agreeably, but in a style that really affects the company.
Above we discussed How To Prepare For The Interview Of Digital Marketing in 2020. Now read which kind of questions can be get asked.
Most Important Questions For Interview:
1. Define Digital Marketing:
The digital market is the key to groom and spread awareness regarding your product in digital ways like the internet, mobile phones, android application, ios applications using display advertising and many other digital ways.
2. What is SEO?
SEO means search engine optimization. It helps to keep higher your website in search engine results pages (SERPs). It presents your website more visible to the audience who are finding solutions via search engines like Google, Yahoo!, and Bing. The topics which we are cover in SEO are given below.
3. Types of Digital Marketing?
There are two main types of Digital Marketing:
Inbound:- utilizing several programs to make clients knowledgeable of the company's doing.
Outbound:- standing out to possible customers.
4. Define some of the useful Digital Marketing tools:
State Google Analytics, for example, if that's one on which you work, but also acknowledge lesser-known tools to explain you seem for the best, not just the most-used. Is there a keyword analysis tool that's difficult but works great? Is there a tool you used while your certification course? If you're yet a beginner and aren't still familiar with tools, try here a list of 63 digital marketing tools.
5. What is AMP?
In a mobile controlled Internet society, search users favor browsing by mobile sensitive websites that offer an active experience. Buffering times can be frustrating and Accelerated Mobile Pages (AMP) is a mechanism to place that difficulty.
AMP is actually an open-source action by Google that enables administrators to increase the website speed on mobile devices and allow them to load almost immediately. This assists to give a great user experience while browsing. AMPs are held by various programs and are available beyond browsers.
6. Which brands do you like or follow on social media and why:
The best answers than which companies an applicant loves purchasing from — they designate why he or she believes several firms, what about their content policy interests to the applicant, and what exactly about those firms the applicant looks up to and possibly want to follow in their own work. Follow the link to more: https://blog.hubspot.com/marketing/marketing-interview-questions
7. We have a new product arriving in three months. What would you proceed to launch it?
That will explain to you how great a candidate understands all the various tactics of inbound marketing and how to bind them mutually into a holistic plan. It will also give you insight into how inventive they are and whether they can appear with new and exciting ways to do marketing. Follow the link to more: https://blog.hubspot.com/marketing/marketing-interview-questions
8: What are the most effective ways to increase website traffic:
Content optimization
Targeting keywords
Regular content on LinkedIn
Linking Inside on websites
Email marketing
Paid search
Display advertisement
Content marketing
Writing crisp headlines
SEO activities
9. What are the differences between AdWords and AdSense?
The Google Ads application allows you to create ads that will appear on related Google search results pages and our network of associate sites.
Google AdSense is an advertising placing assistance by Google. The application is created for website publishers who desire to promote targeted handbooks, clips or photos displays on website pages and earn funds while site visitants see or tap the ads.
10. Describe what is keyword streaming?
Keyword streaming signifies examining the related keywords and pick the best keyword for the website based upon its purpose, in order to produce organic traffics and leads inside the keywords.
Conclusion:
In conclusion, I hope you understand by reading the above that How To Prepare For The Interview Of Digital Marketing in 2020
You can leave a comment if you need any assistance regarding the above post (How To Prepare For The Interview Of Digital Marketing in 2020). In addition, We looking forward to assisting you. If you want to learn about the digital market. And want to perform practically with me you can just fill-up the form below so that I can get in touch with you from the Darshan Sonar Digital marketing course Pune.