Tips For Increasing Backlinks For Your Site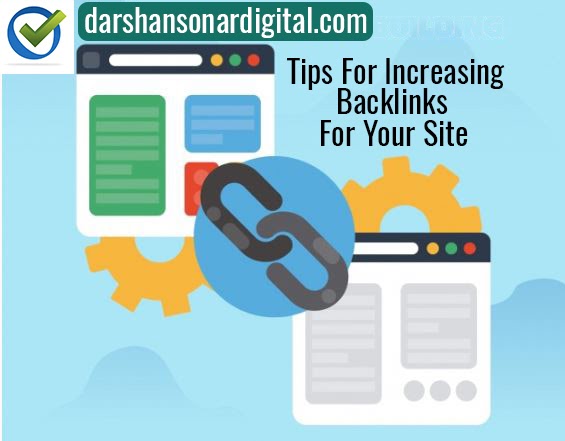 What are backlinks?
A backlink is a link that comes from other website to your website. It could be placed in a text, on an image, or as a button, as long as the reference is a different website, all of these connections count as backlinks. In SEO, backlinks are very prominent because they are one of the most prestigious ranking factors for every major search engine out there. Google and other higher search engines consider backlinks "votes" for a specific page. Pages with a high number of backlinks leading to having high organic search engine rankings. So in this blog, we will know about tips for increasing backlinks for your site, but before starting we essential to know "Why backlinks are important?"
Why backlinks are important?
Backlinks are very important for SEO because they design a "vote of confidence" from one site to another.
In essence, backlinks to your website are a signal to search engines that others declare for your content.
If multiple sites link to a similar webpage or website, search engines can assume that content is worth linking to, and therefore also worth surfacing on a Search engine result page.
So, receiving these backlinks can have a positive effect on a site's ranking site or search visibility.
What benefits does the site get?
The reason why any blog accepts backlinks is eventually to help themselves out. Getting appropriate backlinks is important for a great link building strategy, so approximately every site needs to have the best links. To prepare a link, you have to determine the site owner what benefits they will get. This is a huge deal. You cannot allow ignoring this if you are serious regarding arranging lots of high-quality links to your site. Here's a little secret is that most sites are looking for identical benefits. If you know what most people are out for, your possibilities of getting links will skyrocket.
Portfolio
You won't believe if I tell you that from all entrepreneurs to businessmen and web designers to copywriters, are constantly looking to design portfolios to showcase their best and most recent work. Usually, these portfolios will have some sort of backlink to your site for spectators to review a service provider's work. Not only does allowing backlinks from portfolios help improve the business of the person who supported you make your business better, but it benefits you seem higher in Google search rankings.
Consider review from Bloggers
This kind of outreach is most effective if you sell a product. In a similar way to investigating sites and bloggers for the point above, start by building a list of bloggers who might be engaged in providing a review. By searching Google for keywords related to your product, you will find bloggers that are inherent advantages for this method of outreach. If you are excited about taking this route, you have to ensure that your product is 100% fit to be reviewed. After getting your target list, craft an email to send to these bloggers, remaining as friendly, human, and non-spammy as potential…
It may need some extra information past your first email, but by working with the writer, you may build a long-term connection, opening doors to new posts and links back to your site or articles, basically driving more site authority and visits to your website or blog.
Blog Comments
There are above 600 million blogs in the world today, out of over 1.7 billion websites. Tumblr only is home to 471.6 million blogs, as of July 2019. (Source: Statista)And 77.8 million new blog posts are published every month on WordPress, along with about 54 million new comments. (2018, WordPress)In fact, over 2 billion blog posts are being published every year worldwide. That's 5,760,000 blog posts published per day, and 4,000 blog posts published every minute. (2018, Internet Live Stats). There are more numerous than 70 million blog sites on the web and the number of new blog sites is rising day by day. So you can take the benefits of it.
Backlink through Infographic
A high-quality Infographic is still the most powerful way to earn a backlink. This technique works for not so familiar with a niche. What you really require is high quality & informative Infographic. If you have a designer in your team, you can ask him to design one or use any freelancing sites. Once your Infographic is set, you necessitate to do they reach out to bloggers who are more likely to publish your infographic on their blog. In the source, they normally link out to your website.
Compose Articles On Current Affairs
Many people who publish articles and reports at the proper time end up getting a lot of backlinks. Probably you have seen people published a report on Facebook ads vs Google ads, just before Facebook went public. This encouraged him to attract more than a million backlinks to his blog and it accommodated their SEO for a very long time. You can examine trending articles on your niche. Buzzsumo will show you all the recommended articles on your space, you can perceive fresh content ideas based on social shares. Look out for the most popular posts and write a better version of that.
One of the causes current affairs perform very well is because the amount of Articles out there on this particular topic is very low with low conflict. Secondly, creating high-quality content is not a simple job, you cannot create high-quality content overnight. That is one of the reasons, you will not suffer much controversy when you are writing on trending subjects.
Social bookmarking
Social bookmarking is a safe and effective process of getting backlinks. It analyzed the top link building strategy. Social bookmarking gives instant traffic to your website. It creates a more definite impact on the page rank, saves your time and multiplies your work. Here yourself can share your videos, images, website links & blog links. Google prefers fresh content. So this will provide fresh content to the search engines. Here quickly you can share your content and promote your business.
Write a productive guest blogs
Guest Blogging is a kind of content marketing and SEO technique where nay person writes and publishes a blog post on a third-party website or blog to improve their personal brand. It is one of the greatest ways to put your content in front of warm and responsive readers. If you have a sharply defined target customer audience, guest posting is one of the most effective ways for backlinking. It's 100% free, and the only real cost required is the time required to think up content ideas and write posts. It is the best kind of tips for increasing backlinks for your site
Following people are more likely to react to content than a banner ad, you will have a choice over your competitors that rely on paid media. Through guest blogging, you will likely form a large number of conversions and new customers. The hugest benefit of guest blogging is that it allows you to tap into the authority of an existing website. You can reach the right public by the right blog and you could capture over tens of thousands of readers with a single blog post.
Stick with Your Niche
Networking and choosing to exchange backlinks can be fruitful for all parties concerned, but only when it's performed right. Make sure that you take time to get to understand the professional, their business, and how your content can properly fit on their website. For instance, there is no point in sharing an in-depth case study on a coaching client on a leadership progress blog if there are no direct bonds. Your niche matters when building backlinks, so make sure that your link sharing practice follows with your niche to maintain a clean "record" and increase your SEO rankings.
Competitive backlink research
Backlinks can be time-consuming to earn. New sites or those growing their keyword footprint may discover it difficult to know where to start when it comes to link building. That's where competitive backlink research comes in. By analyzing the backlink profile to a competitor that's already ranking great for your target keywords, you can gain insight into the link building that may have benefited them. A backlink tool like Link Explorer can help open these links so you can and target those domains in your individual link building campaigns.
Conclusion
I hope you have enjoyed this post "Tips For Increasing Backlinks For Your Site". You can leave a comment in the below comment section if you need any assistance regarding the above post (Tips For Increasing Backlinks For Your Site). We look forward to helping you.
Ready to start your social media marketing. Or else want to perform strategy practically with me you can just fill-up the form below so that I can get in touch with you. Darshan Sonar Digital is the 1st Corporate Digital marketing course in Pune.